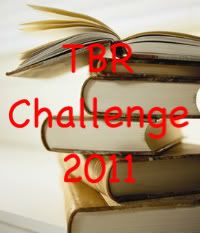 I should put it out there right away -- I had a mini-binge earlier in the month. I actually read two category romances in a row, and for me that constitutes a binge of sorts. I know I'm not knocking down any huge statistics columns or anything, but for me it's huge. The fact that I'm
gradually
edging towards a total count of 10 books read for the month
so far
is another huge thing for me. I might even do a monthly tally for January!
I have mixed reasons for dipping into my Harlequin stash this month. First, of course, is that it's the theme for the
2011 TBR Challenge
, hosted this year by my coffee klatch buddy, Wendy. One of these days we have to work up a post deal and feature these women. Some of them are out and about in the Blogisphere too.
Getting back to topic, my other reason for the categories is that...well, they're easy to read. We're talking maybe a day for me to read one of these suckers, if I'm on a reading bender. So, for your reading pleasure, I offer TWO mini-reviews for my January installment of the TBR Challenge. See how lucky y'all are?
TBR Book #1:
Under the Boss's Misteltoe
by Jessica Hart. A November 2009 Harlequin Romance. Not sure about availability, but I do know when I keyworded at
eHarlequin.com
, I had no luck in finding it.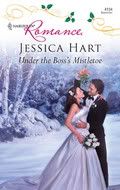 Cassie Grey had always harbored a fascination for Jake Trevelyan in high school, and the last time she'd seen him, he'd given her a kiss that would knock any teenager's socks off. Jake had always fostered his bad boy image and seemed to be happy with that role, so kissing Cassie should've gone a long way in emphasizing that, right? But that day, Jake knew he'd never regret the kiss, or forget Cassie.
Fast forward ten years
: Cassie works for a wedding planning business (the blurb calls it "events planning"), trying to find her niche in the world since every other job she's ever had has turned into just that...a job. Not a
career
. When she finds out her next assignment is Jake Trevelyan, Cassie wonders if it's too late to pack her bags and leave the country. The last time she'd seen Jake, he'd kissed her, and damn it all if Cassie hadn't enjoyed every second of it. Cassie can't squash a little jealousy that she'll be planning a wedding for her former bad boy crush, but with their first meeting she finds out that the assignment is not his wedding. Jake asks for her help in turning his deceased mentor's mansion into a wedding venue, which may call for them spending several hours together --
alone
-- in the mansion that had been their stomping grounds as kids.
Have I mentioned that Jake is rich as
Croesus
now? In the past ten years he's gone from bad boy to the Chief Executive of a thriving business, and he now appears as comfortable in high end business suits than he did in a leather jacket sitting on his motorcycle. Initially when I started out with
Under the Boss's Mistletoe
, I thought that Cassie would slow the book down for me. She seemed a bit immature, maybe too much so for Jake. But as the story progressed, it quickly became apparent that there was more than meets the eye with her. She has a heart of gold, is a klutz extraordinaire, but is one of the most genuine heroines that I've read in a while. Her honesty was quite appealing, and almost from her first meeting with Jake as an adult, she wears her heart on her sleeve. Honestly, it was evident to me that she still had the hots for him, but we wouldn't have a full-scale romance if the hero could pick up on it by page 20, right?
The thing that I loved about
Under the Boss's Mistletoe
(other than the cover -- it's gorgeous!) is that the theme is growth and maturity, and that both of these can happen while keeping true to yourself. Jake has come a long way in turning his life around. He'd done everything he could to not only leave his past behind and shed his scoundrel ways, and he's succeeded in doing just that. But you can take the man out of the leather (amen!), but sometimes you can't take the leather out of the man. Jake still has a kernel of bad boy in him, but he's afraid to let that come out. What he has a hard time doing is finding an even balance between successful business man and motorcycle riding man of steel, so he does the only thing he thinks is safe -- maintains a squeaky clean image. The kiss he'd given Cassie had been meant to teach her a lesson (don't play with fire), but he'd wound up getting burned himself. And as they spend more time together, making plans to turn the Hall into a wedding venue, he begins to see that maybe his life would be better with a bit more spontaneity, and definitely a lot more Cassie.
The steam level in this is pretty mild, but I loved the slower simmer that burns all the way through. It goes a long way to prove that I don't need to read of calisthenics and bedroom Pilates for me to enjoy a book (although they have a time and place as well). Will I be rereading this one one day? Hm, not sure since I'm not much of a rereader, but I can say that this book has stayed with me long after finishing it. I loved the British setting, and I loved the simplicity of the theme, high school crush all grown up. For that alone, I'm pretty comfortable with giving
Under the Boss's Mistletoe
an
A-
rating just because I keep going back and reading parts here and there, which I guess could constitute a mini re-read.
ETA: After reading this review, I've decided to divide up my two TBR reviews into two posts because, seriously, I don't want to make anyone's eyeballs bleed.