Once I'd finished reading
Under the Boss's Mistletoe
I figured, why not, I'm on a roll and I went for another category romance. What I ended up choosing was Lisa Renee Jones's
Santa, Baby
, a Blaze from December 2009. It's part of the
Dressed to Thrill
mini-series, and I don't honestly know if I have any of that series in the TBR or not. It might be worth a look-see.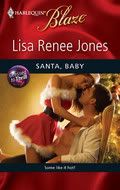 In
Santa, Baby
, Caron Avery, a owner of a small bookstore that caters to what women want to read, is asked to pose as Marilyn Monroe in a hoity toity charity ball's fashion show, but is late for the gig after her store's toilet goes heel's up. (That's a conversation starter if I've ever heard of one -- "Hi, I'm Caron and I'm late because my shitter broke.") Anyway, already late and in a hurry to have her car parked so she can get backstage so the wardrobe and makeup folks can do their magic, Caron meets Baxter Remington, owner of the mega-popular (and expensive) Remington coffee shops across the country. Figuring he's definitely out of her league -- hello! he's gorgeous and mega rich -- Caron can't ignore a few steamy mini-fantasies that pop into her head while the valet takes his sweet time dealing with her car. She never once thought that she had a shot in hell at spending an evening alone with Baxter, let alone in his bed.
Baxter Remington likes what he sees when he comes up on a sexy brunette haggling with the valet parking guy to get her car at the front of the line. Despite the less than sleek sweatsuit and haphazard hairstyle piled on top of her eye, even without makeup, she perks more than his interest. When his mystery lady tells him to watch for Audrey Hepburn (Caron's assigned character for the charity) later on, Baxter can't help but hope for a better meet and greet session. Maybe he'll get more than her number...
After her tardiness leads to a costume change up, Caron must take the stage as none other than Marilyn Monroe. Being nothing like the blond bombshell, Caron allows herself enough to have some fun and enjoy the role. That includes when she meets up with Baxter after the fashion show. Neither one count on anything more than a one night stand, but it will be one to remember. But their one shared night turns into something more when they begin getting to know each other. Who ever thought that dressing up would be this fun?
Now, on the surface,
Santa, Baby
looks to be a holiday read, right? Honestly, the book could've taken place at any time during the year. But that wasn't my biggest problem with it. I just never connected with Caron all that much, didn't feel like I got to know her hardly. Her parents died when she was a kid and she was taken in by her grandmother, who fostered her love for books and reading. Being the owner of a bookstore is a big dream for Caron, and she's living her fantasy of selling the types of books that many women want to read -- sexy, romantic fiction and other types that cater more to the female reading gene. That was pretty much all I got out of Caron. For some reason she just appeared to be too one dimensional for me.
But Baxter on the other hand, not only does he ooze sex appeal to me, but I loved the way Lisa Renee Jones wrote him as more than a rich business mogul who can get any woman he wants. He doesn't know that he wants a more permanent partner in his life until he gets to know Caron better, and can see her in his future quite nicely. There is an angle to the book that features Baxter's business partner off-stage, an apparent major crook who seems fairly intent on painting Baxter as the bad guy. With all the bad press, it has not only caused Remington's stocks to take a dip, but also has the FBI interested in Baxter. So, honestly the last thing Bax probably needs is a romance right now but Caron becomes a balm, and something more than a romp in bed. Not that there's anything wrong with s-e-x. These two hit it off like fireworks on the 4th of July.
That's another thing that Ms. Jones did well in
Santa, Baby
-- keeping the chemistry, both sexual and emotional, fresh from one page to another. While Caron may not have been my favorite character ever and the
bada-bing bada-boom
(well, the first time) happens fairly early on, I never lost interest in seeing them work beyond just keeping their relationship as a sexual one and allowing it to turn into more.
On the whole, I enjoyed
Santa, Baby
, even with that minor quibble with Caron. Maybe if I'd felt more connection with her I would've given it higher than a B reading, but I still feel overall that Baxter and the rest of the book somewhat made up for it for me.
(Oh, and I have to say, because I'm such a cover whore -- I loved this cover. BUT the woman in it appears to be of Asian descent. I don't remember anywhere in the book mentioning Caron's nationality or her family's origin. Argh!)