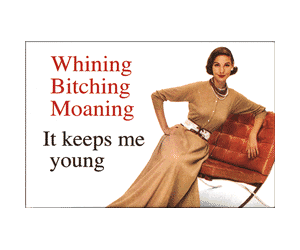 So, yeah... There's no love in Staple-ville. *sigh* John and I trekked out today for my doctor's appointment and subsequent staple removal, only to be met with a sign on the office door that the Office Was Closed, Open Thursday and Friday. Umm? No phone call? No, 'hey, Ms. Amy? Your appointment for this morning is going to have to be rescheduled for later in the week because the entire office staff lives wayyy out in the boonies and therefore cannot be expected to be into work because We Can't Get Out Of Our Driveways'. Well, ain't that a real mood killer. These bastards (the staples, not the office staff - although they were temporarily on my shit list) are driving me crazy, itching, and I want them out NOW! But I'm nowhere near as inconvenienced as the two other patients who each drove over 45 minutes from outlying towns, braving the "Bad Weather", to make their appointments. Oh, have I mentioned THAT THE SNOW IS NEARLY MELTED AND OUR ROADS ARE CLEAR?? School is even back in session...
But I'm not bitter...
Anyway, the appointment is rescheduled for tomorrow and now I'm back to pacing the apartment, wringing my hands, trying to pick another book to read. Last night I finished up Lisa Renee Jones's SANTA, BABY, which means I read an entire book in one day. Go, me! If you count back from last Wednesay, January 5th, I've read FOUR FREAKIN' BOOKS (well, 3 books and a short story) and I'm totally rockin' this reading upswing. It's about time.
Santa listened
.
I'll have to write up a review for SANTA, BABY because I was pleasantly surprised by it. It didn't start off good for me because I felt zero connection with the heroine at first. And, if I'm honest, I feel like there could have been more oomph to her characterization. But the hero rocked my socks and really saved the book for me. I mean, seriously, hawt!

So if I do the math, I can delete one book from my ebook TBR and I've already added the three completed paperbacks to my Paperbackswap trade list, but I'm coming in heavy on the incoming list. Y'all, besides that trip to BAM last weekend for my birthday, the one in which I got 5 books, I also placed an eHarlequin order over the weekend, AND I just carried in two bags of categories that one of the girls at work gave me so I "have something to do while I'm recuperating". Bless her heart. She's a great friend, but she's never seen my Mt. TBR. But there's some reissued Betty Neels books (never read her before), as well as some December '10 Silhouette Desires and Harlequin Romances in there. Normally I would've put those back in the UBS trade sack, but I really got a taste for them after finishing Jessica Hart's UNDER THE BOSS'S MISTLETOE. Maybe I need to mix in some more CEOs and sheikhs into my reading to jazz things up.
Hmm, maybe a CEO or sheikh would've MADE the doctor come in today to remove my staples, instead of just blessing him out on the phone.