Every Christmas I always have these
lofty
unrealistic
honest, heartfelt intentions of reading at least 4 or 5 holiday-themed romance novels. This year I didn't quite make that goal, but I was able to get in two, A COUNTESS BY CHRISTMAS by Annie Burrows and CHRISTMAS EVE AT FRIDAY HARBOR by Lisa Kleypas. Since the Kleypas was a library book and one that I read in the week or so after I got married, I've long given up on posting any kind of review for it. But I will say this -- it was good. Maybe not earth shattering or enough to get me to buy my own copy for keeper-dom, but I enjoyed it. For me, the thing that most stood out was the setting; it almost seemed like a character itself. I'm a huge fan of books set in the Pacific Northwest, and until this book I had never even heard of
Friday Harbor
. But, trust me, I did some research now and this tiny little island paradise is now firmly on my Places I Want To Visit list. There is just something about that area of the country that just calls to me -- the lifestyle, pace, or maybe it's the coffee; for me, maybe it's just the cozy waterfront setting that I just adore. Whenever I read a book set in the locale, I always want to go out and buy fifty fisherman sweaters, throw on a pair of Uggs, grab a cup o' joe, and zone out for a while. And I've never even set foot in the great state of Washington. Maybe John and I can retire there one day...
My other holiday romance this year was A COUNTESS BY CHRISTMAS, a December '10 Harlequin historical. Despite the fact that I just finished reading it this afternoon, I can't count it as a 2011 read since I'd started it long before Christmas. I even had it in the hospital with me, but
Dilaudid
has this crazy way of killing any intentions of getting anything done while you're laid up in a hospital bed. When I was finally off the good
shit
drugs, daytime tv sucked me in for a couple days, and it was just easier to gork out to Toddlers and Tiaras, and Hoarders: Buried Alive on TLC.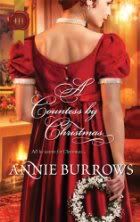 Anyway, a review!
A proposal under the mistletoe!

The Earl of Bridgemere is happy to encourage his reputation as a curmudgeonly recluse if it repels the grasping females who usually attend his lavish Christmas parties. Helen Forrest is like a breath of fresh air, uninterested in his wealth and not cowed by his temper. Bridgemere's seasonal duty suddenly becomes a pleasure as he sets about making Helen his countess -- by Christmas!
I'll let y'all in on a secret: I rarely read Harlequin historicals even though I buy them by the truckload around the holidays. What sold me on this one? Yeah, the cover. I love rich, glossy, sumptuous covers, and I'm not ashamed to admit it. This one is simplistic and featured two things that caught my eye, a beautiful red dress and a Christmas-y wreath. Yeah, I'm easy.
Did the story live up to the cover? To be honest, I was shocked at the depth of characterization. Helen is maidenly, modest, earnest, and loves her adopted aunt, Bella, who is a major character in A COUNTESS BY CHRISTMAS as well. After losing everything financially, Helen and her aunt are forced to travel to Bridgemere's estate to beg for help. It's there that Helen and Bella have to suck it up and grovel, which is difficult since her aunt had raised her to be an independent, freely-thinking woman who shouldn't have to rely on any man for anything. But the tables are turned when the women see that the earl isn't exactly the cold-hearted A*hole they'd believed for so many years.
The romance is sweet, just barely touching on anything sensual, but it was dealt with a deft pen. Normally I like a bit more heat, but the level here worked well for the pace and type of romance. The characters featured a wide range of folks, ranging from the evil/self-centered siblings and heir who claim Bridgemere wants only for himself and can't see beyond the tip of his own nose, to the children and townsfolk who paint a much different picture. Helen is torn in both directions, trying to figure out just what kind of person he is, but ultimately starts looking beyond the rumors and misconceptions to the man beneath the icy exterior. Could it be that the Earl of Bridgemere truly does have a heart?
In my house, Christmas is never over until my birthday on January 8th, but I think I may have to keep it around longer this year and read some more Christmas-y books. A COUNTESS BY CHRISTMAS really whet my appetite for the Most Wonderful Time of the Year.