I've been coming up on the negative side when it comes to blogging. I don't know if it's the summer heat melting my brain, or the fact that I'd rather be reading these days more so than writing up posts. But I'll persevere, and one day I hope to get a routine down and maybe a tantalizing post that invites people to want to jump for joy. Bahwahahaha! Yeahright....
But back to the reading thing -- I'm kicking ass and taking names with the Mercy Thompson series, and because I haven't honestly been pulling books from my own TBR, but getting this series from the library, I cheated and am using IRON KISSED as my TBR Challenge. Hey, while it may not be my own personal TBR, per se, it is everyone's TBR, right? It's my rationalization, let me use it...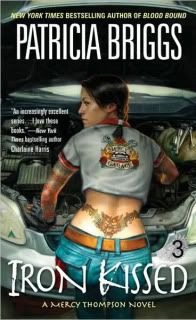 Taken from the back blurb:
Mechanic Mercy Thompson can shift her shape -- but not her loyalty. When her former boss and mentor is arrested for murder and left to rot behind bars by his own kind, it's up to Mercy to clear his name, whether he wants her to or not.




Mercy's loyalty is under pressure from other directions, too. Werewolves are not known for their patience, and if Mercy can't decide between the two she cares for, Sam and Adam may make the choice for her...
Oh, let me count the ways why I love this series:
The utter charm and realness of Mercy and her merry gang of cohorts is eye-opening and refreshing.
Adam.
Samuel.
Rinse and repeat: Adam and Samuel.
Samuel.
The riveting suspense and taut spin of words not only keep me invested, but make me wish that this series will go on forever. And ever. Amen.
Did I mention...Adam and Samuel? Right...
Well since I've already mentioned Adam and Samuel, let's not forget the fae. I did not realize just how many varieties were out there, and in IRON KISSED we meet more of them. (Of course, in BONE CROSSED, there's even more!)
While paranormal and urban fantasy may be the hot topic this year in fiction, I'm new to the mix. I'm totally digging the unique spin Patricia Briggs puts on what could easy be rehashed, rinse and repeat kinda stuff, and makes it her own.
In IRON KISSED, it's become quite evident that Mercy's upbringing in a wolf pack unknowingly prepared her for the trouble and adventure she'd get herself into when she moved to the Tri-Cities. She's easily capable of making a Volkswagen hum to her mad tune while keeping an Alpha wolf in line, and managing to not become wolf kibble at the same time. She considers Zee a close friend, if you can call a fae friend, as well as her mechanic mentor, and when he winds up in jail, wrongfully accused of murder, Mercy's up and at it again, chucking caution and her own safety to the wind in pursuit of doing the right thing.
What's different in IRON KISSED from any of the other books in the series is that it made me cry. Readers/fans of the series may already know at exactly what point I had to bust out the Kleenex, but since I'm not a huge fan of spoilers, I won't say anything further. It's hard to forget that while Mercy is not exactly infallible and she does know and understand fear, she easily comes across as almost bullet-proof. But she's not. Her unique part human, part shape-shifter makeup allows her to see both sides of any coin.
As always, Mercy gets by with a little help from her friends, and IRON KISSED becomes another layer in this decadent series. In this, though, I felt there was a bit more openness, a lot more reality, and gritty became grittier. I'm super-excited that I've caught onto this author, and I'm definitely stoked that I've only got a book and a half left before I'm totally caught up.
And then begins the wait....*tapping fingers*. More....please?