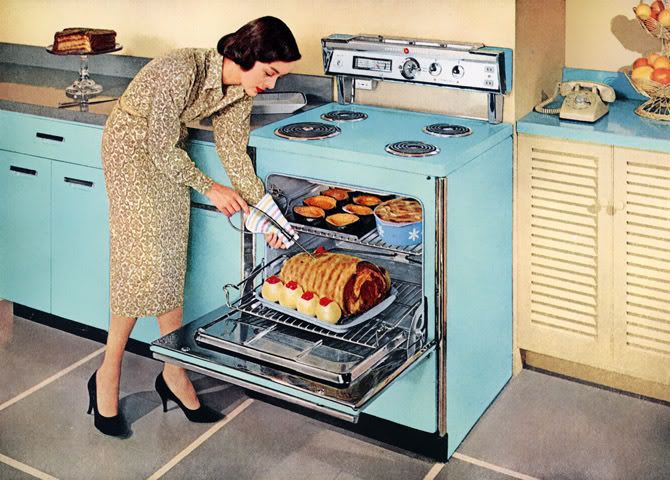 There are few things I love more than books, reading, and collecting cow figurines (ok, John falls into that sentence somewhere too), and cooking has become one of them. On my lengthy list of bookmarked blogs, I've started up a section for cooking blogs, where I can hang out with foodies who love to write about it. I have found my people! Pioneer Woman, Ree Drummond, is a woman after my own heart who loves to cook with every day ingredients and pays attention to the full flavor aspect of things. She also has a cowboy hubby (Marlboro Man) who is a simple guy at heart, and doesn't seem to like weird recipes, like sushi, shellfish, or anything that just doesn't look right. Hmm, I wonder how Marlboro Man and John are related. Tonight's dinner,
Drippy Beef
, is one of PW's recipes, and I'm looking forward to fixing it here very shortly.
So, I was going to write up this post like I do most of them -- with no clear cut topic other than my repeated mantras of "I buy too many books", and "I read as slow as a turtle". Instead, I'll let you all in on what I'm doing when I'm not reading. TV's usually involved, and for the past week it's been the
French Open at Roland Garros
is Paris. Can I get a hell yeah for my man Novak Djokovic?! I'm very weird in how I pick my faves at these tournaments. Since Andy Roddick is out of the running now (boo hiss!) and he's my #1 tennis squeeze, Novak runs a close second in my top ranking. After that, I'll usually pull for the underdog if Lleyton Hewitt, Tomas Berdych, "Big John" Isner, or Fernando Verdasco aren't playing. Beyond that, it's an open field with me rooting for any guy who can beat ol' Rodge Federer.
Swimming, while it hasn't been a mainstay for me lately, is another thing that I take fairly seriously. I may not be Janet Evans and definitely couldn't carry Michael Phelps' towel, but I do love to hit the pool when I get the chance. Lately due to a shoulder strain, I've had to curb my trips, but I do live for the smell of chlorine. Until it gives me a headache and then it's time to go home. Heh.
I do spend a lot of time surfing the blogs, but lately I have been doing more reading...of magazines. I'm such a ho for food rags. I subscribe to a fair number of magazines:
See? I'm easy, and if it's anything related to cooking, I'm usually a pushover. Lately I've been scouring articles for budget friendly recipes that I can try, paying close attention to new and different meals that I want
fob off on
John to try. Like I said earlier, he's a real
pain in the ass
picky eater. Usually if it involves meat and potatoes, I'm good to go. But lately I've been wanting him to try NEW and EXCITING stuff, and even though the Drippy Beef recipe calls for pepperoncinis to be thrown into the mix, I think he'll like this one.
I'm also a self-proclaimed history fan, focusing mainly on British/European history. Five years ago, I'd read anything that featured the Tudors (and yes, I still love the Showtime series), but nowadays I'm branching out, reading more on things like the Romanovs, Marie Antoinette, and even dabbling in some medieval history. While I'm in the bookstore, I may spend in inordinate amount of time in the fiction and romance fiction aisles, but I spend almost as much time in the non-fiction history aisles too. My non-fiction collection grows in leaps and bounds, and I'm an easy sell if it's a book focusing on many monarchs or dynastic families.
Of course, when I'm not boring even the paint on the walls, I'll do what I can to make John batshit crazy, because, honestly, that's a great hobby. Honestly, I never realized how much of a life I don't have, but that's ok. With all the crazy hours I spend at the hospital, I'm good when I'm at home doing nothing. I revel in that nothingness. I don't always want to go and DO stuff, or be around a lot of people. We're not big movie-goers and don't hang out in bars (be cheap, drink at home!).
So, there you have it...what Amy does when she's not reading or working. Just remind me that it's ok to have no life. Actually it's pretty cool because I seem to be a happy person even though we don't throw tons of money at cruises or go on expensive trips. In fact, I have vacation time coming up in about a week and a half, and guess what we'll be doing -- yep, nothing. Bliss...