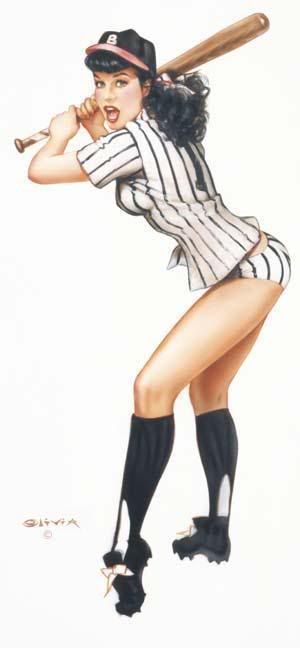 Friday Friday Friday Friday FrIdAy FRIDAY!
It's about time the weekend got here, and I plan on doing a whole lot of relaxing, tennis watching, and hopefully some mondo reading. Of course I'll throw some sleep in there since I'm working off only 3 hours sleep since yesterday and after working last night, my ass is fairly dragging.
Wendy can already tell you - and has - that baseball season has officially started for the pros. But here in Smalltown, USA,
small town baseball
started this past Wednesday night with a season opener against some no-name team out of NC. I think I'm starting to appreciate the sport more and definitely enjoy seeing a live game versus one on tv. But I still am totally not getting where the whole "strategy" in baseball is. Of course, I will totally argue to death that there is strategy in tennis and people still don't believe me, so to each his own.
Tonight it's date night and we're headed out to the field once again to catch a game. John gets his stick fix, and I'll get a good ballpark hot dog, complete with spicy mustard and an ice cold beer. Yep, I'm always in for the food and could be considered a cheap date.
Oh, and hey -- I did get my retail fix on today, just a bit delayed from my earlier proposed trip this past Tuesday. Karen Rose's book, as well as the new Julia Quinn and Lisa Kleypas books jumped into my basket and I wasn't about to say no. Heh...