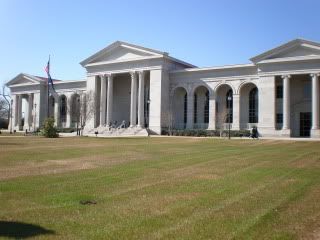 The photo at the left looks like one helluva classy place, no? Believe it or not, that's our new library right here in my neck of the woods. Gorgeous, isn't it? It's actually about 2 years old now and replaced a much smaller, older library that was pretty on the outside as well, but highly dated on the inside.
In the name of curbing my spending and trying to
kill the urge
improve my hoarding tendencies , John and I have taken to spending a lot more time at the library. My problem is...I still bring home 4 and 5 books every few weeks when I have tons and tons of stuff here at home to read right from my own TBR. However, I have gotten to read hardback copies of new books that I normally would've waited for paperback (The Time of My Life, Ice, and A Matter of Class).
This week, I brought home:
I've not had that much luck with Heather Graham's recent suspense books, although I adored her Civil War historical series from wayyyy back. Why am I trying another one? Because I can't quite give up on an author whom I personally admire, plus the book was there, just begging for me to try it.
Sandra Brown's really been raking up some hits with her veer into straight suspense, and I've been scoring some great reads by her when I can.
I'm making it my personal goal to read all of Hester Browne's books, and since I've loved two of her books from her Little Lady series (still have to read the last one), I thought I'd give THE FINISHING TOUCHES a look-see. Her books lean toward the quickly fading chick lit direction, but I love the dialogue and quirkiness in them.
Rounding out my haul, it's been quite a while since I've read a book by Karen Robards, and I've been meaning to pick up another one as soon as I could. PURSUIT just lucked into my hands this past Monday.
On this last trip I noticed the killer DVD, audio books and eBook sections they have as well. Yes, this cowpoke town in South Carolina has finally entered the 21st century and gone electronic! Dig me kicking up my heels... Now, I may not have the latest in technology to read ebooks on, but I still have an archaic Palm Pilot that I can use, so the possibilities are endless. I also happened to see they had a copy of Helen Mirren's riff as Bess I in
Elizabeth I
, which I think she scored awards for a few years ago (on top of her run in The Queen).
I'm trying to figure out how I'd gotten away from the library for so many years. Oh sure, I still want to buy and support my absolute must-haves, so Books-A-Million and Barnes & Noble haven't seen the last of me. If nothing else, I consider shoring up this flagging economy as my God-given role as an American citizen! But with the library, back when I was a constant customer in my home town and when I first moved out on my own as a young adult, I wasn't afraid to try new things, new genres, and spread my wings a bit. Zero risk! If I didn't like a book, what did it cost me -- nada! I remember as a teenager when I spent many afternoons after school at the local little library, I'd come home with no less than six or seven books; and I'd carry around a large portion of my haul at one time because you never knew when the mood would strike. Nose in a book was a perfect description for me, and I should've been awarded that title in high school. I was such a cool nerd...*snort* And I only say cool because I lifeguarded, coached and copmpeted on the swim team in the summer, so that made me cool (*laughing hysterically* yes, I actually thought that).
Anyway, I digress...
Thank God I've found the library again because I'm having the best time finding old favorites and new authors to try alike.
ETA: Just found out that the book I requested from the ILL at the library is on its way, and I blame that solely on
Sarah
and
Keishon
. They've been raving about
Jo Nesbo
and I'm anxious to try this author.