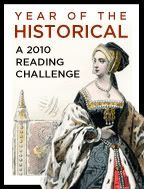 I finished one of the loveliest books I've read in a long time, or rather, the most refreshing historical romance in a while. Mary Balogh's historicals are pretty much a sure bet for me, A MATTER OF CLASS is another example why. It just so happens that I'll be able to count this one in with the Year of the Historical Challenge being hosted by
KMont
.
Reginald Mason lives a spendthrift life, his biggest worry being from where he'll order the latest fashion and where the next card game is. As the son of wealthy Bernard Mason, Reginald has never worried about lack of funds, the love of his parents, or that they'll forgive him just about anything. Reginald's rakish ways come to an earth-shattering halt when his father announces he's to marry Lady Annabelle Ashton, the daughter of the Earl of Havercroft, who also happens to be Bernard's enemy and one of their neighbors.
The Ashton family have always snubbed the Masons for their lack of noble blood, despite the fact that Bernard Mason is richer than Croesus and not in debt up to his ears like Havercroft is. Having made his money in the coal business, it is enough to earn him the disdain of his "betters", the Ashtons. Annabelle's father had always shunned the family, even in church, and he taught his family that any gesture of friendship or kindness would not be acceptable. It's a shame really, since she'd known Reginald since she was a young girl and had always thought Mrs. Mason looked to be a nice enough woman. Recently, Annabelle brought the censure of society down on her family when she'd run off with the coachman. The scandal could very well ruin her if she does not accept her father's ultimatum - marry Reginald Mason. A wedding between them will solve two of her papa's problems -- paying off his debts when Mason agrees to pay Annabelle's dowry, and it will eliminate the stain of her tarnished reputation.
A MATTER OF CLASS is both a romance that features Annabelle and Reginald's short courtship and anecdotes of their childhood days, divided by class, but forming a friendship regardless of their stations (or his lack of one). I loved those stories featuring the day they met and progressing on to the afternoon when Reginald taught Annabelle what a proper kiss was. We're never given a real timeline until much later when we realize that the wedding takes place about three years after Annabelle realized that she's head over heels in love with Reginald.
I haven't had the fortune of reading Ms. Balogh's traditional Regencies, but I imagine that A MATTER OF CLASS harkens to those books, resulting in her legion of fans today. I'm not sure how newer fans will feel about this one since it is so slim and doesn't allow enough time to get into further character development or secondary plots. What I read, though, is a refreshing book that left me with a smile and further proof for Balogh's status on my favorites list.