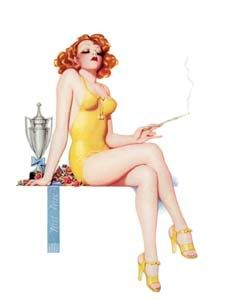 Everyone's talking about it, some are planning on which books to read before the awards ceremony, and if they're not betting on
DABWAHA
contestants, than they're betting on who will win RITAs this year at RWA. At the very least, a lot of fans and bloggers are discussing the nominees and whether they deserve to be on this list or not or ranting at the powers that be for not nominating other authors.
Wendy
is truly dedicated -- she provided links to each book at Amazon AND to the author's web page. Me, I'm not so patient or detail-oriented. But I still have a lot of love for many of these authors and congratulate them all on their nominations. Especially to two of my faves -- one is a new-to-me author, Kate Brady, and the other is a personal fave, Karen Rose. In Katiebabs' honor, I've got PRACTICE MAKES PERFECT already on deck to read asap.
In an effort to
cull the TBR
see just what made them a nominee, I'm hosting a self-imposed challenge of my own before RWA to read at least three or more of the books that have been nominated. This year, I think I've already read three, and I'd like to up that number. I'm not sure I can keep up with
AnimeJune
and her personal challenge of 15 books, but who knows. Maybe I can read 4 or 5 since there is some time between now and RWA.
Below, of course, is the list of nominations. I've highlighted in blue 4 books that I'm planning on reading (not including PRACTICE MAKES PERFECT). Ha - my own "homework reading"! How did I miss a Tudor-related romance this year?! (hello, Jeane Westin!) Of course, it's on the list since I consider myself a Tudor fanatic.
2010 RITA for Best First Book Finalists
One Scream Away by Kate Brady
He Calls Her Doc by Mary Brady
The Gladiator by Carla Capshaw
Angel Vindicated by Viola Estrella
The Better Part of Darkness by Kelly Gay
Stolen Fury by Elisabeth Naughton
Nothing Like You by Lauren Strasnick
The Last Will of Moira Leahy by Therese Walsh
2010 RITA for Contemporary Series Romance Finalists
A Not-So-Perfect Past by Beth Andrews
From the Outside by Helen Brenna
The Snow-Kissed Bride by Linda Goodnight
Single Mom Seeks... by Teresa Hill
Revealed: a Prince and a Pregnancy by Kelly Hunter
The Christmas Love-Child by Jennie Lucas
One-Night Mistress...Convenient Wife by Anne McAllister
Duty, Desire, and the Desert King by Jane Porter
I Still Do by Christie Ridgway
2010 RITA for Contemporary Series Romance: Suspense/Adventure Finalists

Mountain Investigation by Jessica Andersen
The Christmas Stranger by Beth Cornelison
The Soldier's Secret Daughter by Cindy Dees
In Care of Sam Beaudry by Kathleen Eagle
Silent Watch by Elle Kennedy
Cold Case Affair by Loreth Anne White
The Christmas Present by Tracy Wolff
2010 RITA for Contemporary Single Title Romance Finalists
Talk Me Down by Victoria Dahl
True Love and Other Disasters by Rachel Gibson
For the Love of Pete by Julia Harper
Too Good to Be True by Kristan Higgins
A Little Light Magic by Joy Nash
Dirty Sexy Knitting by Christie Ridgway
Instant Attraction by Jill Shalvis
Fireside by Susan Wiggs
2010 RITA for Historical Romance Finalists
Wicked All Day by Liz Carlyle
With Seduction in Mind by Laura Lee Guhrke
To Beguile a Beast by Elizabeth Hoyt
Make Me Yours by Betina Krahn
Knight of Pleasure by Margaret Mallory
The Lone Texan by Jodi Thomas
Not Quite a Husband by Sherry Thomas
Taming Her Irish Warrior by Michelle Willingham
2010 RITA for Inspirational Romance Finalists
The Inheritance by Tamera Alexander
A Lady Like Sarah by Margaret Brownley
The Gladiator by Carla Capshaw
Entertaining Angels by Judy Duarte
An Eye for an Eye by Irene Hannon
The Silent Governess by Julie Klassen
Breach of Trust by Diann Mills
The Confidential Life of Eugenia Cooper by Kathleen Y'Barbo
2010 RITA for Novel with Strong Romantic Elements Finalists

The Better Part of Darkness by Kelly Gay
Scandal Sheet by Gemma Halliday
Red's Hot Honky Tonk Bar by Pamela Morsi
The Lost Recipe for Happiness by Barbara O'Neal
Silent on the Moor by Deanna Raybourn
The Accidental Bestseller by Wendy Wax
The Virgin's Daughters: In the Court of Elizabeth I by Jeane Westin
Lakeshore Christmas by Susan Wiggs
2010 RITA for Paranormal Romance Finalists

What Would Jane Austen Do? by Laurie Brown
Untouchable in Deep Kiss of Winter by Kresley Cole
Kiss of a Demon King by Kresley Cole
My Forbidden Desire by Carolyn Jewel
The Fire King by Marjorie M. Liu
For the Earl's Pleasure by Anne Mallory
Darkness Unknown by Alexis Morgan
Covet by J.R. Ward
Mortal Sins by Eileen Wilks
2010 RITA for Regency Historical Romance Finalists

Surrender of a Siren by Tessa Dare
Scandal by Carolyn Jewel
Tempting Fate by Alissa Johnson
A View to a Kiss by Caroline Linden
Revealed by Kate Noble
What Happens in London by Julia Quinn
Lord Braybrook's Penniless Bride by Elizabeth Rolls
2010 RITA for Romance Novella Finalists
"A Little Night Magic" by Allyson James in Hot for the Holidays
"The Robber Bride" by Marjorie M. Liu in Huntress
"Annalise and the Scandalous Rake" by Deb Marlowe in

The Diamonds of Welbourne Manor

"Charlotte and the Wicked Lord" by Amanda McCabe in

The Diamonds of Welbourne Manor

"This Wicked Gift" by Courtney Milan in The Heart of Christmas
"On a Snowy Christmas" by Brenda Novak in The Night Before Christmas
"The Christmas Eve Promise" by Molly O'Keefe in The Night Before Christmas
2010 RITA for Romantic Suspense Finalists
One Scream Away by Kate Brady
Waking the Dead by Kylie Brant
A Dark Love by Margaret Carroll
Whisper of Warning by Laura Griffin
Stolen Fury by Elisabeth Naughton
Dark Country by Bronwyn Parry
Promises in Death by J.D. Robb
Kill for Me by Karen Rose
2010 RITA for Young Adult Romance
Fairy Tale by Cyn Balog
Don't Judge a Girl by Her Cover by Ally Carter
Perfect Chemistry by Simone Elkeles
Going Too Far by Jennifer Echols
The ABC's of Kissing Boys by Tina Ferraro
Nothing Like You by Lauren Strasnick