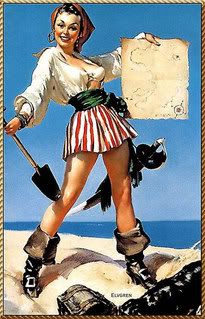 I have a love/hate relationship with my TBR. I love it when I get to pick out a new book, but I also hate having to choose. You see, I suffer from a syndrome that any good bookaholic has -- TBR anxiety. The other day when I was window shopping at Paperback Swap, I clicked on the romance section in recently added books, and for just about every 10 books displayed, I could honestly say I had at least 6 or 7 of them. Yes, folks, my TBR is just that extensive. Horrifying, isn't it? Well, no, not really.
My mom just totally doesn't get why I have all these books that I haven't read yet, and my sister is absolutely at a loss for
why
I love to read so much. I mean, seriously, trying to get her to read a recipe is hard work. John, bless his heart, just wants to see me happy, but loves to gloat that he actually reads every book he buys. To him, I say...
ttthhhpppp
! And I mean that in the best of ways. Hmph.
So, yesterday, I was trying to pick what to read next -- and when I say "pick", please understand that that is a terrifying venture, because it usually amounts to a lot of sweat, tears, sneezing, and fear for the spelunking adventure that is about to occur. I mean, seriously, I have A LOT of books...
Then it occurred to me -- Doh! You have a Palm, Amy! You need to get caught up on some of your ebooks. Genius! I guess some would say that this is an avoidance tactic, like if I ignore the TBR, it will tidy its own self up. And, honestly, I do need to cull some of those suckers. But now I'm left with yet another decision -- which ebook do I go with? *sigh*
It's a never-ending cycle...
I wonder if there's a support group for this.