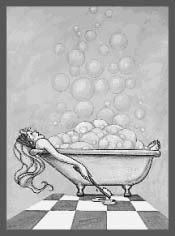 Besides a looong weekend at the hospital which, actually, was eventless (thank God!), it's been an interesting past few days around here. I missed posting something painfully cute and patriotic on the 4th of July and have been playing catch-up around BlogLand, so I hope everyone had a happy and safe holiday!
While everyone's glued to the televisions today for the coverage of Michael Jackson's memorial service, South Carolinians are breathing a sigh of relief after a
suspected serial killer was shot to death yesterday a.m.
Granted, Gaffney, SC is about 3 hours away from here, but John and I do have friends up that way, so we paid close attention to the news pretty much all weekend. Friends know that I'm fascinated by true-life stories of serial killers (David Berkowitz, John Wayne Gacy, PeeWee Gaskins - another SC killer), but this was a little bit too close to home.
So, serial killer has been caught, my weekend at work is over, and I should be able to relax a little bit before going back to work tomorrow night, right? Nope, poor John was knocked on his butt by some sort of stomach bug, and I was busy yesterday taking care of him. Poor guy never gets sick, but last night was a whole heaping sh*tload of fun, lemme tell ya... Today is much better and he's able to keep some food down, so I think we're on the mend. Lysol and Febreeze have been my best friend this morning.
I've got a date with my computer today to get caught up on two reviews I need to write up, and I'd love to spend time with Mary Balogh's FIRST COMES MARRIAGE today. I'd heard mixed reviews about this one, but I'm actually enjoying it very much. My only qualm with it is that I feel like I'm being pulled between two heroes, Elliott and Constantine, second cousins and right now, bitter enemies. Lyngate (Elliott) is the hero, but I'm hoping to see a happy ending, or at least a book, for Con.
One more thing -- one week until vacation!