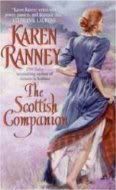 Full steam ahead, baby! Even though things here have been stressful the past two days, I was able to finish Karen Ranney's THE SCOTTISH COMPANION late last night. Now, this is an author who will make anyone change their mind about Scotland-set historicals, even though this one didn't have the feel of a Scottish Highlands type of romance. It probably could've been set anywhere in the world in any given time period, and it'd still work. But I loved it anyway!
Grant Roberson, the 10th Earl of Straithern, may carry a deadly blood disease, the same that possibly killed both of his brothers. He's decided to marry to begin his own bloodline and chooses his physician's daughter, Arabella Fenton, an unlikely woman who makes studying medicine an art form. As a scientist himself, Grant can fully appreciate a woman who is comfortable in her own pursuits, even though it's not the most ladylike sort. With that thought, he figures they'll get along famously once they've had a son and can pursue their separate interests. But Grant isn't prepared for the ice-cold chill he suffers when he first meets Arabella, and instead warms to her companion, Gillian Cameron.
Gillian has suffered in her life when her parents shunned her after she'd shamed them by falling in love with an affianced man. To this day, she carries emotional scars from that abandonment and a broken heart. Traveling to the Straithern estate with Arabella and Dr. Fenton, Gillian isn't prepared for an attraction for the austere Earl. He both fascinates and frustrates her, and slowly her hardened heart melts for him.
While this all may seem like a typically HEA romance, what worked for me was the hint of evil that follows Grant and Gillian as they begin their forbidden relationship. It's quite clear that Arabella is not the perfect candidate for a wife. It angers Grant how poorly she treats Gillian and doesn't show any interest in learning what will be required of her as a countess. But someone wants to make sure that Grant and Gillian stay apart, and they'll do what it takes to see that happen. Including murder.
THE SCOTTISH COMPANION was an excellent start to 2009 and my bid to knock some books off of my TBR. I'll definitely be searching for more books from the author, which I know I have plenty of.
Next up: STROKES OF MIDNIGHT by Hope Tarr, a Blaze that fulfills both challenges I've entered this year -- TBR and Harl./Silhouette.