When I started blogging -- all of, what, 6 or 7 months ago? -- I never expected people to acknowledge me for where I come to vent. While I set out to create this blog for romance books and fictional reading on a whole, it's actually turned into something more. A place where I can sign on and just talk, whether it be about my mom, books, John and The Great 2009 Snow, or pizza. So, while I don't think this blog is as great as some of the others I follow, I truly thank
Leya
for thinking of me, and letting me know that someone out there is reading.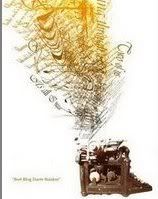 This award acknowledges the values that every blogger shows in his/her effort to transmit cultural, ethical, literary and personal values every day. The rules to follow are:
1) Accept the award, post it on your blog together with the name of the person that has granted the award and his or her blog link.
2) Pass the award to other 15 blogs that are worthy of this acknowledgment. Remember to contact each of them to let them know they have been chosen for this award.
Basically, all of the blogs I follow enrich my life somehow, to some extent and in totally different ways. Whether it's
Pioneer Woman Cooks!
, or
KristieJ and Katiebabs at Rambling
, all of these folks matter to me. Some are on my links sidebar, but many aren't.
One thing I'd like to note, and it's not at all due to the fact that she mentioned my name and gave me this award: I ADORE how
Leya
includes This Day in History notes on her blog, both entertaining me and teaching me something I didn't know.