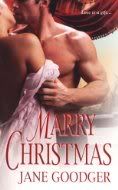 Yay! I finished another book before our trip tomorrow, and while I loved MARRY CHRISTMAS, I'm left a bit mixed on some things:
From the back cover:
A Christmas wedding to the Duke of Bellingham. Any other socialite in Newport, Rhode Island, would be overjoyed at the prospect, but Elizabeth Cummings finds her mother's announcement as appealing as a prison sentence. Elizabeth has not the slightest desire to meet Randall Blackmore, let alone be bartered for an English title. Her heart belongs to another, and the duke's presitge, arrogance, and rugged charm will make no difference to her plans of elopement.

Against his expectations and desires, Randall Blackmore has inherited a dukedom and a vast estate that only marriage to an heiress can save. Selling his title to the highest bidder is a wretched obligation, but to Randall's surprise his intended bride is pretty, courageous, delightfully impertinent -- and completely uninterested in becoming a Duchess. Yet suddenly, no other woman will do, and a marriage in name only will never be enough for a husband determined to win his wife in body, heart, and soul...
Once again, I liked the hero almost more than the heroine. While Randall hardly has a farthing to his name, he's a proud, good man who is not only hesitant to wed, almost sight-unseen, but knows when to toss in his cards and ask for help. Help, in this sense, is the Cummings family, "heathen Americans" (if you ask Rand's mother), for all their snobbish ways and overly American tendencies. While this family may be the royalty of the States, he's doubtful that Elizabeth will ever measure up to his expectations of what a duchess should be like -- or at the very least, his mother will hate her on sight. But Rand needs money more than he needs love right now, or at least that's what he thinks.
When he first meets Elizabeth, he's none too taken with her and can't help but wonder at her self-centered ways. While she's not a bad person, she can't help but think of nothing beyond the tip of her own nose. Add that to the fact that she loves another, and you have all the ingredients for a disastrous marriage. Trust me, that's how the courtship and wedding pretty much starts out. Surprisingly, it's not long before Rand finds himself falling in love with Elizabeth, though.
The book worked for me on most levels, and I loved the setting of Newport for the first 2/3 of the book where it's set. However, the newly wedded couple do skip across the pond quicker than expected, and that's when the emotions truly start to crop up. Although I would've liked to actually have seen Elizabeth grovel a bit more (ok, maybe a lot more), I do think that Rand caved too soon. But you can't help love sometimes, and that's the shining lesson here. We don't always fall in love with the perfect person, right? It's the heart that holds the reins sometimes. MARRY CHRISTMAS is a good example of just that.
All in all, this is certainly a book I'd recommend, and I have it directly from the author that it's the first book in a new trilogy of hers! The second book should be out sometime late fall of '09, if I recall right. I've missed Jane Goodger's historicals something fierce, and am ecstatic that she's back to writing them for the unforeseen future.