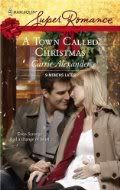 I just love looking at this cover. It's so cozy and Christmas-y, it ain't funny. And despite the fact that I don't always get the "secret baby" or pregnancy themes in series romance, it actually worked in A TOWN CALLED CHRISTMAS.
From the back cover:
It's Christmas, and Navy pilot Michael Kavanaugh is home from deployment -- with a "dear John" letter in his pocket. In spite of a rather serious case of Bah-Humbug, Mike heads to Christmas, Michigan, to spend the holidays with the York family. But then he meets Merry York, and spending Christmas in Christmas doesn't seem such a bad idea after all...

That is, until Mike discovers Merry has a present she's been hiding - she's five months pregnant! As attracted to Merry as he is, Mike isn't prepared to be a father and husband after only seven days.

But in a town called Christmas, almost anything can happen...
There's no picking this one apart or analyzing it to tell y'all what worked for me and what didn't. It's just an entertaining read that really resonated with me for it's simplicity. I love when that happens! I don't know why I don't stock up my reading with more series romances (it's not like I don't have any), because I usually walk away after reading one with a smile on my face. Entertaining, quick, and easy to dive right into, that's how I'd describe, at the very least, A TOWN CALLED CHRISTMAS.
Now, since I'm on a jag and want to get in as many holiday-themed books as I can, I'm reading Jane Goodger's MARRY CHRISTMAS, a return to what I love best by her, historical romances! This one promises to be excellent.