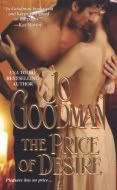 I don't know what it was about Jo Goodman's THE PRICE OF DESIRE, but man that book took me forever to read. Despite suggestions to move to another book, I persevered and finally finished the blasted thing last night. At work, remarkably. Now, don't get me wrong, but it was actually pretty good. But tnis year my reading karma has been way off and I'm not slogging through the books like I'd want to. I'm not sure why that is, because I still don't feel right if I'm not reading
something
. Lately it's just been a lot of magazines.
Anyway, from the back blurb:
Olivia Cole is devastated to learn that her ne'er-do-well brother has promised her to the operator of a London gaming hell as payment of his debts. Olivia accepts her fate -- even if it means that her reputation will suffer from living among rogues and gamblers. But when she meets the sexy and mysterious Griffin Wright-Jones, Viscount Breckenridge, Olivia has more than just her good name to worry about -- for he rouses in her wanton thoughts she's never dared entertain -- until now...

Griffin wears the scars of his life on his striking face. Although he wants Olivia like no other woman before, he doesn't force her to share his bed -- a difficult task considering how beautiful she is. But with each passing night, Griffin and Olivia's resolve weakens until finally they take their greatest gamble on one night of reckless pleasure...
So... I've read a couple of historicals where the hero owns and operates a gambling joint, but I can't say that I've read one where the hero is a peer and still chooses to operate a gambling business. Or maybe I just haven't woken up yet and am lucky enough to remember my own name right now. While at first I thought Griffin was a bit odd, I wound up enjoying how Jo Goodman wrote his character. He's...different, I just can't put my finger on the how. From the first introduction of him when he's meeting with Olivia's brother Alastair in order to settle his debts, Griffin sets himself not only apart from my own perception of a gambling hell owner, but rises above almost immediately. He know he's not totally within the bosom of the
ton
because he dares to work, but he also knows that he's not the most hideous person ever and chooses to make his money with his business.
Olivia has her own share of baggage, and it's a while before you find out exactly what happened to her to put her in these circumstances. What I didn't expect was that I felt less sympathetic towards her plight, and found myself liking Griffin more. Olivia does shine towards the end, but for some reason I didn't connect with her as much as I'd hoped. Please, if anyone's read this book, don't throw tomatoes or other rotten fruit at me. Olivia's past isn't pretty, but I can't quite figure out why it didn't fit for me.
That being said, the book is well-written and enjoyable. Although it took me weeks to finish it, I did like it...it's just, meaty. And I must say the ending seemed a bit too drawn out. Now I feel like I'm ticking off the cons and they're outnumbering the pros... ;-) But it's still worth a look-see, trust me.
And I'm finally onto another book! A TOWN CALLED CHRISTMAS by Carrie Alexander, which is an '07 SSE, I think, which makes this the 3rd book in the
Harlequin/Silhouette challenge
. I really need to get jamming on that in order to make that deadline.