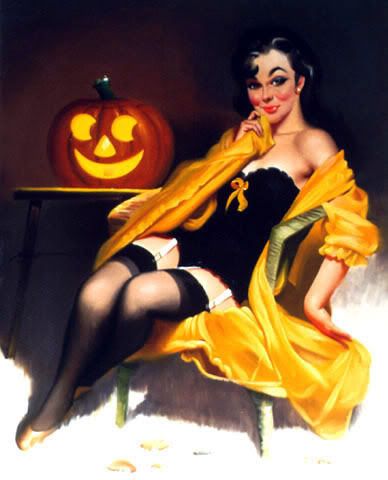 So, all of you Hallowe'eners (*snicker*), what kind of trouble is everyone getting into tonight? John and I've ordered pizza from our favorite place, had one trick or treater (the pizza delivery gal), and I'm settling in with a good book tonight. Since I couldn't find my copy of the Harlequin historical Halloween anthology, HALLOWE'EN HUSBANDS, I'm reading THE UNTAMED ONE by the late Ronda Thompson. It's the second in her Wild Wulfs of London series, and features the hero as a werewolf looking for a way to cure his family curse.
I was totally bad earlier this evening. I went to BAM to pick up the second book in Cherry Adair's newest series (NIGHT SECRETS), promised myself I'd only buy the one book, and walked out with six. Six! Where is my resolve?? I'm starting to think I need help. The guy who rang me up at the store simply looked at me, asked me if I was planning on spending the evening with a good book, and smiled. He must inherently know that John and I have no life...LOL
But, I do enjoy my time with my sweetie, so it's not a total wash. We do bicker, and I get so mad at him sometimes, but I honestly don't know what I'd do without him. He's a bit bummed tonight, so I posted this Halloween pic tonight because I know he reads my blog, and I know he gets a kick out of the pinups I've found (thanks, Wendy!).
As for weekend plans -- well, we were going to go to Charlotte tomorrow morning to attend the Carolina Renaissance Festival, but decided to stay home and just relax. We're spending the entire weekend up there next week for a big to-do (which means I start vacation next Wednesday -- yes!), so I guess this will be our quiet weekend when we can enjoy the extra hour of sleep.
Ok, I've been Chatty Cathy enough... sheesh!