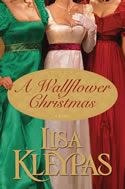 I know I said I would curtail my book buying, but when I saw the new Kleypas hardcover in Books-A-Million yesterday, I just had to have it. I swear, the book FORCED me to purchase it!
It's not my fault that these also jumped in the basket:
Up In Smoke -- Katie MacAlister
Marry Christmas -- Jane Goodger
Just the Sexiest Man Alive -- Julie James
And these wound up at my house from Paperbackswap earlier this week:
No Escape -- Shannon K. Butcher
The Price of Desire -- Jo Goodman
I'm finally finishing up THE HOUSE OF ALLERBROOK (cover at right in my sidebar), and while it's well-written, this is going to be a doozy to write a review for. I love me some Tudor-set books, but it just seems like nothing good happens to the heroine in this one, Jane. Very descriptive areas throughout the book to explain in detail the various settings and goings-on, but I found myself skimming through a lot of that to get onto the action. And, let me tell you, it covers a LONG period of time: through the majority of Henry VIII's marriages after he beheaded Anne Boleyn, on to after his death when his son was put on the throne.

I'm going to go dig up my Ohio State sweatshirt because, folks, today is college football throughout most of the country. I LOVE this time of the year, and I adore a good college ball game. OSU is up against Michigan State today, and I'm hoping it's going to be a good game because, damn, we've been all over the board so far this season. I'm always griping because it seems we never play any GOOD teams and then we had a shot and played USC, yeah, our butts were handed to us on a platter. Now, Michigan State isn't exactly the SEC or anything, but they're respectable. So, let's see what the Buckeyes will do for me today...