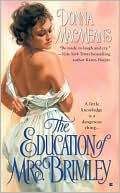 I love to give new authors the chance to wow me and allow me to add them to my auto-buy list. I'm also a sucker for a good cover, as previously mentioned somewhere along the way in this blog. I simply could not ignore the artwork for Donna MacMeans' debut, THE EDUCATION OF MRS. BRIMLEY, an Oct. '07 release. Was I blown away by the story? Maybe not in a hurricane-esque way, but I did have a good time with this book.
Emma Brimley has run away from her scheming uncle in London to avoid a forced marriage that will allow him to pay off his debts. Basically, he wants to sell her. Petitioning the spinsters of the Pettibone School for Young Ladies for a position as an instructor, Emma is unprepared for the subject they've chosen for her: teaching the young students the erotic secrets in marriage. Well, she shouldn't have been surprised since her guise is that of a widow, not a simpering miss. Where will Emma turn to get her own instruction of what goes on in the boudoir? Why to the the next-door neighbor, Lord Nicholas Chambers, of course! An artist, Nicholas mistakes Emma as the model he has hired for a nude painting. But quickly he strikes a deal: in exchange for intimate lessons, Emma will be the subject of the painting he wishes to submit to the Royal Academy.
What transpires is an entertaining act of give and take between Emma and Nicholas, and no one is more surprised than them when Emma stops being the starchy "widow", and becomes the seductive Artemis for Nicholas's art. Emma is just one of those no-nonsense heroines who I enjoy. She is enraptured, almost reluctantly, when Nicholas starts demonstrating the finer arts of seduction. But just when he thinks he's got her nailed, so to speak, Emma surprises him yet again with an onslaught of her own.
This book has convinced me that it's definitely worth trying out Ms. MacMean's newest release, THE TROUBLE WITH MOONLIGHT, as soon as I can.
Joanna Bourne's newest in her vastly enteraining Spy series, MY LORD AND SPYMASTER, was the icing on my cake this past week. Since I'm reviewing it over at
Romance Reviews Today
, I'm not at liberty to say anything right now more than -- GO OUT AND GET THIS BOOK TODAY! The depth and nuances throughout is a perfect example of Ms. Bourne's talent for shadowing and allusion, and painting a picture with a precise touch. This book is not pretty and bucolic, but gritty and meaty, with characters you love and hate at the same time. But what stands out most, is the author's ability to set up a scene and totally take a 180 to lead you in another direction. She is definitely a diva of narrative AND dialogue.
And that's all I'm saying about that...