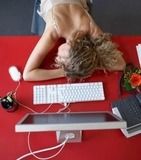 I don't know if something is trying to get ahold of me, or if the hospital just made me its bitch last night. I got home this morning two hours late, took a shower, ate breakfast, and crashed after reading a bit of my current book. When I woke up at 2 pm, I felt like I'd been hit by a truck - a big fat semi. But I did get to lay in bed and catch a bit of Rafa Nadal beat Andy Murray at Wimbledon. Cheeky Scots bastard, thinking he could beat Nadal... I fell asleep again after that. Blah.
I haven't even changed out of my pjs today and John's cooked me his version of chicken alfredo (we call it John'fredo schmootz - just chicken and bagged noodles). I actually feel quasi-human right now, but still dead-tired. Ugh.
But, hey, I still have Wimbledon tomorrow to see me through the day. And I'm still dreaming of Federer being taken down a notch. Can Safin do it? Or will it be a straight-on to the death match with Nadal? I'm now laying my bets at Rafa's feet. C'mon, big guy, make me proud.