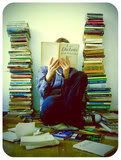 Around the Blog O'Sphere, I've seen many bloggers listing their half-year lists of books they've read. I didn't think I could compare to any of these gals -- even guys -- and sought to keep digging my way further into my TBR. Hide, if you will. Yes, that pic up in the upper right corner is an actual shot of my books -- in my bedroom. I won't go into detail about how many others I have scattered throughout the house. Suffice to say, when it comes time for me and John to move, the new place will have to have to have
LOTS
of built-ins and storage space.
Anyway, I dug up my lil' journal with the cute dog pic on the front, the one John deemed back in January would be my 2008 Book Journal, and lo and behold -- I've not done too bad! Maybe I'm not knocking over any records for millions of books read per month, but it's not too shabby.
So far, this is what I've got:
Rogue's Lady, Julia Justiss
The Kitchen Witch - Annette Blair
Mad Kestrel - Misty Massey (woot! She's a friend)
Some Girls Do - Leanne Banks
Missing - Jasmine Cresswell
Die For Me - Karen Rose (new fave author)
The Wicked Deeds of a Duke - Laura Lee Guhrke
The Spy Wore Silk - Andrea Pickens
Killing Fear - Allison Brennan (definitely a diva)
The Heir & the Spare - Maya Rosdale
Twisted - Andrea Kane
The Duke's Indiscretion - Adele Ashworth
No Regrets - Shannon Butcher
Dirty Blonde - Lisa Scottoline
Lillian's Love - Laura Marie Henion
The Spymaster's Lady - Joanna Bourne (the woman can write!)
Stripped Away - Sydney Somers (I want more in this series!)
Lost Souls - Lisa Jackson
Tango's Edge - Carole Bellacera
Trust Me - Brenda Novak
All the Pretty Girls - J.T. Ellison
Mine Till Midnight - Lisa Kleypas
I Bid One American - Amy Corwin
Mysterious Millionaire - Cassie Miles
Warrior Rising - P.C. Cast
Fallen - Erin McCarthy
Real Vampires Get Lucky - Gerry Bartlett
Psychotic - Aline de Chevigny
Garden of Darkness - Anne Frasier
The Spymaster's Lady - Joanna Bourne
Not too many shabby ones in the pile, eh? I've discovered some great new-to-me authors this year, and I truly hope to unearth some more. Right now I'm almost finished with Karen Rose's COUNT TO TEN, and since I could probably be considered a fangirl of hers (I'm convinced she cannot write a bad book now), I definitely intend on sucking up her backlist. Most of which I have in Mt. TBR. I don't glom much, but for her, I will. And Allison Brennan's another one I'd max out my credit card for. I just found out today that she has not one, but TWO series in the pipelines for next year. Color me ecstatic! Oh, I'm also jonesing for Brenda Novak's STOP ME and WATCH ME, upcoming books 2 and 3 in her
Last Stand
trilogy.
But for now, I've put myself on a bookshopping-break. At least until next week...
Today was, afterall, new release Tuesday, and a girl's gotta do what a girl's gotta do to get her book fix...

To Add: OMG -- how could I forget Nalini Singh's SLAVE TO SENSATION in the above list? Probably one of my top 3 new finds for me this year. Now I just have to read VISIONS OF HEAT, but I'm so afraid of being disappointed...