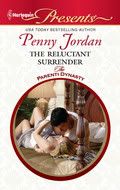 I can now say that I've read a Harlequin Presents, but the jury's still out on whether or not this is a line for me to continue with. When I realized that the deadline for June's TBR Challenge was looming and it featured a contemporary theme, I momentarily panicked. Then I remembered that I'd finished reading
The Reluctant Surrender by Penny Jordan
just last week. It's actually one of the books in the stash that a friend of mine at work gave me while I was on leave over the Christmas holidays, but since it sat on my TBR then I'm counting. Again....my rules, I'll break 'em as I make 'em. Heh.
The Reluctant Surrender
is tagged as "Part One of the Parenti Dynasty", and it looks to be the first in a two-book series. The second is
Giselle's Choice
, and I'm dithering about whether or not to hunt that one down. Judging by the couple of reviews I've read, it's obviously a continuation of
The Reluctant Surrender
, but don't read them if you don't like spoilers and haven't read the first book.
Saul Parenti comes across to many as a man who takes what he wants and turns it into gold. If that's their assessment of him, then so be it since it's true. He's a successful businessman with a comfortable wealth, a member of the royal family of Arezzio, and has the knack to turn even the shakiest deals into raging successes. His latest project will involve hiring an architectural company that will help in seeing his vision of a luxurious vacation destination become real. That's what Saul does: brings fantasy to life, in the form of holidays. He isn't prepared to work alongside the woman who had stolen his parking spot in the garage earlier that morning.
Giselle Freeman's day does not start off well when she nearly comes to blows with a domineering man who claims she's stolen his prime spot in the car park. Since she was already late for an important meeting to meet the firm's latest client, the delay only makes her that much later. And does nothing for her mood, to say the least. When she finds out that the ass she'd had words with earlier is actually her new boss, things can only get worse from there. Saul Parenti hires Giselle as his personal assistant during this project and expects her to report directly to him for every little thing.
Giselle's reputation as an ice queen at the office is about to be tested when her protective frost melts under Saul's fiery regard. The tension between them can be cut with a knife, and before long their relationship goes from professional and lands headfirst in the bedroom. Giselle figures it's safe to have an affair with Saul without messy emotional entanglements since she vows to never love anyone, and he vows to never have a family. Yeah, there's baggage galore here, folks. It'd be the perfect relationship if their attraction didn't turn into something deeper, nearing that L-l-love word.
For all intents and purposes,
The Reluctant Surrender
was an ok read but maybe I got too entangled in the soap opera-y feel that I think this line can dip into. Seething CEOs, bold businessmen, and hot Arabian princes populate the Presents book, and I know many people enjoy the heck out of them; I'd love to find one that packs a punch so am open to suggestions. But I just never could get too emotionally invested in Saul and Giselle. Whether it's the page count, or the characterization itself,
The Reluctant Surrender
just ended up being an 'eh' read for me.
So, I'm up for any suggestions from this line from anyone out there. Whose read a Presents book that just blew their socks off?