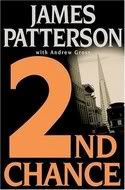 I had honestly planned to have my review for April's TBR Challenge up and ready to go by the buttcrack of dawn today, but I fell asleep at the wheel. While I may not have read a book that fit this month's theme, contemporary or historical western, I did finish one this past weekend that's been sitting on my TBR for, like,
evah
...:
2nd Chance by James Patterson
. This book actually qualifies for two challenges, my own personal challenge, Finish the Series, and Wendy's TBR '11 Challenge, so I'm multi-tasking, people!
To be warned is to be prepared: if you haven't read 1st To Die and want to, there might be a spoiler or three.
2nd Chance
takes place a few months after San Francisco police lieutenant Lindsay Boxer closes the Honeymoon Murders case (
1st To Die
). Many things had happened on that case that eventually led to Lindsay's self-imposed leave of absence, the death of her newish boyfriend (also a cop), the diagnosis and cure of a blood disease, and the emotional upheaval that is inherent while on a case like the Honey Murders. In the end, she caught the bad guy, but it was a long-fought battle and about did her in. At the end of it, she'd scored herself the promotion of lieutenant and a group of girlfriends who all stylize themselves as the Women's Murder Club.
Series, we have lift off
...
2nd Chance
starts off with Lindsay back on the job after some time away when a young black girl is gunned down at her church after choir practice. The shock and rage, both from the community and Lindsay herself, is deafening with community members and leaders knocking down the SFPD's doors for them to catch the killer. Interviewing eye-witnesses nets her a lead that the killer may have driven from the scene with a
Chimera
logo on his white van. Quick needle-in-a-haystack detective work leads her to another death across the city, and it's not long before Lt. Boxer is able to tenuously tie the two murders together. When another man is killed, this time a cop who Lindsay knew, Lindsay's math is not adding up to a pretty resolution: since all of the murders share two things in common, race and the chimera calling card. Could there be a racial serial killer on the loose in San Francisco? The answer to that question is more than apparent when yet another murder takes place and takes the sails right out of the SFPD. This killer has an agenda, and his style is shock and awe...
In
2nd Chance
we meet up with Lindsay's gal pals who were first introduced in the first book,
1st To Die
: Cindy, the crime reporter; Claire, one of Lindsay's best friends and a medical examiner; and Jill, an up-and-coming asst. district attorney. The friends all gather together despite Lindsay's orders from brass to keep a tighthold on the case and not talk to anybody, but together the women start putting together the pieces of a very ugly puzzle. This killer is only starting and won't stop until someone either kills him first - not likely at this rate - or he delivers whatever message he feels that everyone needs to know.
I'll be honest, I brushed aside every book I was reading -- library and review books (don't tell Terrie!) -- to finish this one this past weekend. I've only read a few of Patterson's books, but they always wind up being page-turners for me and go very quickly. Maybe it's the way he engages the reader with his edgy suspense and raw characterization. Some have said that Lindsay Boxer is a female version of Patterson's more famous character, Alex Cross. Since I'm still on the waiting list for the first book in the Cross series from the library, I don't have anything to support or negate that comparison. I just like her and am amazed at how well James Patterson fleshed out a character that is so out of my realm in understanding, but yet I very easily see and hear her in my mind when I read these books.
It seems that the
Women's Murder Club
procedural series is still going strong with the tenth book,
10th Anniversary
, coming out in May. It's a shame that a tv series version of the Women's Murder Club failed a couple years ago, because Angie Harmon did well in the role of Lindsay. With Brett Ratner as one of the producers, I thought it was bound for success...but, no. Maybe they should've left it alone and let people fondly remember the tv movie they did for
1st To Die
, starring Tracy Pollan. It worked, but honestly, how often does a book-to-film gig work?
I digress... I'll leave it with, I adore this series, or what I've read of it so far, and now have added the rest of the books to my mission to Finish the Series.