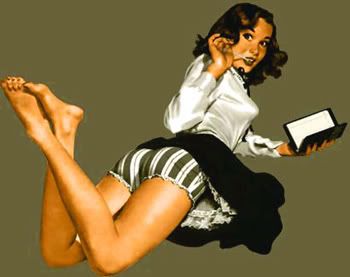 Well, I may not be blazing any trails in thinning out the TBR herd, but I can honestly say that the 9 books I read in January is a record high for me in a long time. Seriously. I can't remember the last time I read that many, and while I may not compare to many some bloggers in the Blogosphere (yeah, I'm talking to you,
Katiebabs
! I'm just jealous of your 20 reads for the month), I'm pretty proud of myself.
What did I read last month? I'm so glad you asked! (yes, talking to myself is therapeutic sometimes)
Not Another New Year's -- Christie Ridgway/B+
I was a little bit on the fence with this one between giving it a B+ and a B-. Now that I've let it marinate in my brain a while, it probably deserves the + because, hello!, it's Christie Ridgway and I seriously *heart* most of her books.
Secret Santa -- Mina Carter
A short story but, damnit, I'm counting it because it's my rules and I'll make 'em up as I go. Not much of a splash with this one, but I liked the fact that it's encouraged me to pay more attention to my ebook stash even if they are on the computer, short story or full length.
Under the Boss's Mistletoe -- Jessica Hart/A-
My official January
TBR Challenge
read and one that just really charmed me. Yeah, it's taken me about three weeks to come up with a way to describe why I liked it -- it charmed me. My college writing teacher would be proud of me, sheesh.
Santa, Baby -- Lisa Renee Jones/B-
I counted this as my twofer category binge, cataloging it in my holiday binge I was on at the end of '10 and in the first of the year as well as cheating and counting it as a second TBR Challenge read. Ok, maybe reading two books from Harlequin in a row might not quite qualify as a "binge", but again...my rules. I loved the hero here while the heroine wasn't quite my favorite. But a nice steamy read overall.
Royal's Bride -- Kat Martin/B+
I still need to write up a review for this one. I quite enjoyed this one and really need to dig out the two follow-up books in that series. Kat Martin just seems to do trilogies so well.
Blood of the Rose -- Kate Pearce/(still working out a rating for here)
Second book in the Tudor Vampire Chronicles, and my first official 2011 read! Oh, and it was a review book for
RRT
that I actually turned in on time. Go, me! I won't say anything more here on it since the review hasn't gone live yet, but may try to do some other kind of mini review with it later for this blog. (whoops, take back that back -- looks like boss lady updated the RRT site tonight)
Your Scandalous Ways -- Loretta Chase/A
Hands down, my favorite read of the year so far.
Secrets to the Grave -- Tami Hoag/A
My second favorite read of the year. And yeah, I should really write up a review.
Real Vampires Have More Fun -- Gerry Bartlett/A
Another review book for RRT and I haven't even finished up the review for it there so I won't say any more than that I love this series more and more with each book.
Since I don't often post monthly recaps because
my numbers fairly suck on a totals tally
I'm lazy, I'm not quite sure what format I want to stick with so I'm just throwing this out there if anyone wants to read it. Maybe if I get nit-picky tomorrow, I'll come back and set up links for what reviews I've done for January. Honestly right now I just want to find a cute picture to slap onto this post and go finish up reading SEP's
Call Me Irresistible
. It's a great start to my February reading, it's just that good.