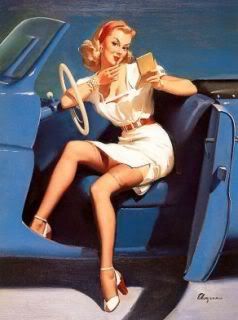 The Mr. and I are on the road to the beach today so we can just get out of the house and go have some nice quality time away this afternoon. Cross your fingers that Micah doesn't decide to throw a party while we're gone. Hopefully on the way, I can get some more of my current review book read,
Real Vampires Have More To Love
by Gerry Bartlett. I finished up Kate Pearce's
Blood of the Rose
earlier this week (review to be posted at RRT for the 2/1 update), realized that I have me a whole mess of vampires books to read from the Review Bosses. Maybe it's an omen...
Last night I finished reading Tami Hoag's December hardback,
Secrets to the Grave
, a book tied with an earlier release,
Deeper Than the Grave
. Both books take place in the '80s, long before cops had the benefit of DNA testing and automatic search results via computer like we see in modern day cop shows on tv. I'm seriously hoping for more books in the serious, because Dude, awesome writing all around. It seems that when you take the high tech away from the story and allow the suspense to rest on the characters doing old school detective work, there's more freedom for making them run the gamut. I loved that. Review to follow later.
On the way out of town, since it's on the way, we're stopping at the library to pick up a few holds they've got for me (because I'm sick like that -- more books!). Two of those holds are based on word that I've gotten around the Blogiverse -- Sylvia Day's
The Stranger I Married
, and
Dash & Lily's Book of Dares by Rachel Cohn and David Levithan
. The Cohn/Levithan book is YA and will be my first beyond the PC/Kristin Cast
House of Dark
series, which I adore. I don't often read YA fiction, but the genre seems to be making its presence known with many of its variety on many faves lists everywhere. I was commenting to my mom about it yesterday, and she totally floored me when she told me she had joined the craze and actually read some of the
Harry Potter
series. Even *I* haven't gone there although many of our friends are big fans. Now, Mom's a well-read woman and cannot ignore a good book, but for her to have read Harry Potter?! I was amazed, although I shouldn't have been.
Maybe it's time for me to set a goal and give the blasted series a try...