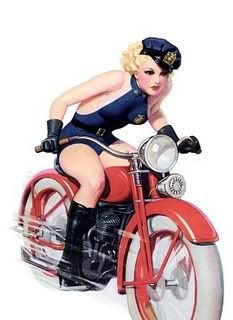 Ok, so why do I have a retro biker chick for today's random post? Hell if I know. I just dug the boots she's wearing in the pic, and from there I can riff on the boots I bought yesterday for my wedding outfit. Yes, this chica is wearing kick-ass knee-high boots when she says "I do". My mother's fairly fainting just thinking about it, and my friends are seriously wondering about my sanity. But dude -- I LOVE them, and they fit my less-than-skinny calves! Of course, since I'm nearly OCD about having all of my bases covered (seriously, I pack for EVERY eventuality), I went ahead and bought a pair of ballet flats just in case. It was teh hilarious in the store yesterday when I was able to find a pair of boots that fit - I almost kissed the store clerk. Seriously, I love store employees who know how to get you to step outside your comfort zone, but offer assistance so that you don't fly totally outside the realm of respectability.
Today and tomorrow will be devoted to picking up the remaining supplies I need for the reception (serving bowls/platters and utensils, extra plates, coffee cups, etc) and to start packing, making sure we have everything we need. Note to self: do not forget the rings and marriage license. Yeah, that'd be something I do.
I actually have three books waiting for me at the library because...well, I'm stupid that way. When in the hell am I going to have time to read in the next week? But I couldn't pass up the chance to read Lisa Kleypas's and Erica Spindler's newest hardbacks. Have I mentioned that I have a problem passing up books?
Things are quiet across Blogiverse, and I certainly haven't been blazing any trails in spontaneity and electric witticism with my less-than-numerous posts lately. Maybe once Wedding Week is over I can wow and awe folks with my sparkling personality. *snort* As if...