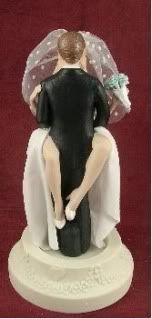 Oh my God. Pre-wedding nervous breakdown has commenced. Now, I am not terrified or spazzing out about marrying John -- in fact, I wholeheartedly embrace it and seriously look forward to becoming that man's wife; yeah, it's kinda cool that honestly being in love despite any ups and the downs really does exist, and even when I get so pissed off at him that I can't speak, I still love him my whole heart. But I am freaking out about the entire day goes off without a hitch. Thank God my mommy will be there. LOL
Other than that, not much else going on in these parts. I went old school in my reading and am hurriedly trying to finish up CRUEL AND UNUSUAL by Patricia Cornwell. A change of pace - sort of. I'm not burned out on the series yet and really need to dig through it so I will be current. Friends both in the romance community and at work have both warned me that Cornwell sort of jumped the shark in the Scarpetta series, but I'm remaining hopeful. What I really need to find are the other two books in her
Andy Brazil
series -- SOUTHERN CROSS and ISLE OF DOGS -- and the
Win Garano
series. I read the first one in the
Andy Brazil
series, HORNET'S NEST ages ago, in fact I did so in one sitting during a very slow day at a former job. I liked it that much, and really dug the setting, Charlotte, NC, since it's sort of one of my stomping grounds.
Oh! I also finished up a goody the other night that I need to write up a review for asap -- WICKED DELIGHTS OF A BRIDAL BED by Tracy Anne Warren. It's been a while since I read a strictly historical romance book, and it was like a breath of fresh air. This was the fourth book in her Byrons of Braebourne series, and I don't really feel like I jumped into the middle of a series. It stood alone pretty well, but I'd like to read the first three. I'm sure they're on my TBR....*sigh*
Another recommendation is THE COUNTESS AND THE KING by Susan Holloway Scott, which I reviewed for
RRT and gave it a Perfect 10
. Yeah, it's that good. I LOVE historical fiction, especially when it sticks pretty close to the real deal, and Restoration England is quickly becoming a new fascination for me. This one takes place during the later years of Charles II's reign and on into the beginning year or two of his brother, James II.
I got my new copy of RT Magazine today, and I'm officially in cover lust. I'm also officially on a budget, but when has that ever stopped me? There are tons of gorgeous historical romances coming out in December that I want to add to my TBR. So a lot of wistful sighing and magazine petting has commenced.
Amy likes, Amy wants...
Yeah, we'll be broke before the year's out. Heh.