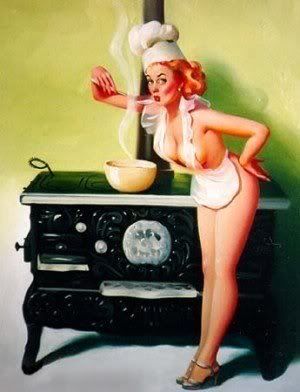 Holly
and I have been talking cooking, budgets, and menus over at her
blog
-- well, she's doing the blogging and I'm just commenting -- but you catch my drift. She has inspired me to try to stick to more of a weekly menu because it's wallet-friendly, and for her larger crew that just makes sense. For me and John, with my erratic work schedule, I can't plan out an entire week's menus, but I can for the scattering of my night's off.
This week, however, I'm on vacation and because I don't have a million dollar budget to blow on groceries (it's entirely too easy for me to spend hordes of cash at the market), I'm trying to stick to a quasi-menu. I also love to try out new recipes, and I already plan on giving
linguine carbonara
a whirl, which Holly provided a recipe for.
Today...well, today it's hot as hell here in the armpit of South Caro, so instead of grilling out, I'm modifying a recipe I saw in Woman's Day: grilled chicken with white barbeque sauce. Instead of grilling (I may wind up using my stove-top grill - who knows?), I'll be baking these puppies and basting during the final cooking process. It usually works well when I do regular bbq chicken wings and drumsticks in the oven, and if I do it right I get a nice crust with great color and tons of pan juices.
Because I'm so over-the-moon about this marinade recipe (I tasted it, trust me - it's GOOD!), I'm sharing it because...well, I'm cool like that.
Serves 8
White BBQ Sauce
1 1/2 cups fat-free or light mayonnaise
1 tbsp grated lemon zest
1/4 cup EACH lemon juice and water
2 tbsp chopped fresh oregano
2 tbsp whitewine Worcestershire sauce
1 tbsp EACH coarse black pepper and yellow mustard
3 large cloves garlic, grated
2 tsp EACH sugar and prepared horseradish
5 lb chicken parts (wings, drumsticks, thighs and quartered breasts)
1. Whisk together ingredients in a medium bowl. Place chicken in a 2-gallon ziptop bag; add 1/2 cup sauce, seal bag and toss to coat. Marinate chicken in refrigerator up to 2 days. Refrigerate remaining sauce.
2. Heat oven to 375 degrees F. Line a rimmed baking sheet with foil. Arrange hciken on baking sheet; bake 35 minutes, turning once.
3. Heat outdoor grill to medium-high heat. Grill chicken, turning and basting frequently wiht 1/2 cup of the reserved sauce, until cooked through, about 15 minutes.
4. Transfer to a platter; serve with remaining sauce.