Man, apparently I love slipping in under the deadline for the 2010 TBR challenge. That's me - Danger Amy, cutting it close.
So -- go, me! I chose a book this month that actually fit the theme: YA fiction. This time around, I read BETRAYED by P.C. and Kristin Cast, and since I loved the first book in the series, MARKED, I had no problem reading this one in a day and a half. P.C. Cast just tends to do that to me, ensuring a great read, but I love this series that she has with her daughter.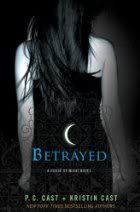 Zoey Redbird, a fledgling vampyre and the new leader of the Dark Daughters at her school, House of Night, has barely had time to acclimate herself to her new role and the rapid acceptance the majority of students have shown her. Under the previous leadership of Aphrodite, the Dark Daughters were highly cliquish and thrived on living up to vampyres' inherent bad rep. With Zoey at the helm, things will change and rules will be made with her guidance and the leadership of a new council which consists of her closest friends.
But life at House of Night takes a nasty turn when local high school kids start disappearing, only to show up several days later...dead. All fingers point to the House of Night, or at least that's what the media is trying to do. Within her school, though, Zoey knows that these kids - all athletes she'd known in her previous life - were not murdered by the hand of a House of Night member, but something's not quite right. Her allegiance to those closest to her will be tested and she'll learn the true definition of friendship and loyalty, but the cost is steep and Zoey is barely gaining her feet in her rapidly spiraling life.
Despite the lengthy period of time since reading MARKED (which I reviewed for
Romance Reviews Today
), I had no problem jumping back into the
House of Night
series with both feet when I started BETRAYED on Tuesday morning. While I wouldn't say this is necessarily a stand-alone book (seriously, you're much better off enjoying MARKED first), it was rather easy catching up again with all the players at the House of Night and reacquainting myself with the people in Zoey's life and immediate circle. Poor kid -- a teenager, and she's already starting to pack some hefty baggage to carry around on her shoulders for the rest of her life. But for such a young character, she's easily identifiable and real, despite her special talents and gifts, those she's received from Nyx, the Goddess of the Night.
One thing I've always loved with every P.C. Cast book I've read is the Greek mythology that not only lends a unique spin on her stories, but also breaths life into her characters and gives them a reason and solidarity for what they do. Although BETRAYED is a paranormal YA book, you can definitely feel P.C.'s love of mythology. Call it a trademark, if you will.
So, I'm guessing it's a good thing that I've gone ahead and dug up CHOSEN, the third
House of Night
book and one that I'm basically salivating to start. I'm seriously going to be sad when I get to the end of the series (so far) and have to start tapping my toes in impatience for the Cast girls to write quicker.