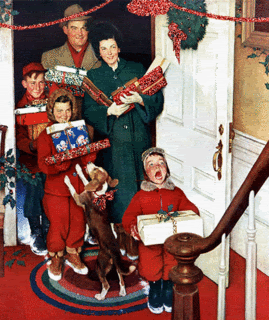 Last week I expounded on the ritualistic nut job antics of my family. I've been a bit silent on that front and have been at odds with myself for our decision to not go home for Christmas this year. Instead of going into further detail, I'll just leave y'all with the assurance that spending my holidays in jail would not be fun times. Today I got the news - and yes, it's good news - that Mom is about 80% sure that she'll be coming down here for the holidays. The best part is, it involves hotel lodging for her and her friend right down the road. So, this year John and I get to be holiday hosts for the first time in our relationship. It will be a true test of the strength of relationship... ;-)
I'll be stocking up on the vodka until then, as a coping mechanism of course. Ha!
This weekend will be spent putting up the Christmas tree and pulling out all the decorations. I'm a girl of tradition, and there are certain things that I have to have each year for it to feel like Christmas to me. Last year I missed out on one - a real tree. Since we spent the holidays up in Ohio in '08, I didn't get to indulge in my love of honest-to-God pine in the living room, but this year I will get my way. There are two other necessities for me during the whole shebang: new PJs to be worn to bed on Christmas Eve, and beef burgundy (steak a la Anita to my clan) for dinner that same night. I have finally started fixing a much-loved recipe that's been passed down from my mom's cousins to us, and it's usually a hit. Germans really know how to sauce up their marinades, and this recipe calls for an entire bottle. Cheers!
Something else that's become a yearly thing for me is snapping up as many holiday-themed romances I can get my hands on. A friend of mine showcases her Christmas romances by placing them in a decorated basket and putting them under the tree. It's her gift to herself. As a romantic fiction bibliophile, I love the idea, even if Martha Stewart or Sandra Lee didn't come up with it.
This year, I may even gift myself with the new Susan Wiggs hardback, or Debbie Macomber's latest because, seriously, I want holiday goodness to ooze out of my pores in '09. It's the first year where I've actually taken an entire two weeks off for Christmas, and I'm going to enjoy it, damnit.