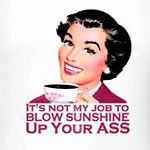 Wow, I totally dipped out of BlogLand for a while, eh? I guess I just haven't been in the mood to post, or had anything earth-shattering or entertaining to write about. I wish I could even say that I have been devouring books left and right so I could post scintillating reviews up here on the Corner (books that I've paid for with my own hard-earned cash, FTC, just in case you're watching!). But nope, nothing as fun as that. Work has been dogging me down lately, and since we're just into the swing of pneumonia and flu season, respiratory therapy is a happening department right now. Ugh! So, while I'm still only working three days a week, those 12 hour shifts are turning into 14 hours and all I have the energy to do when I get home is hit the shower and fall into bed.
Today, however, it's a bit of housework with some much needed dusting, cleaning, straightening, sorting and laundry. But I have been paying attention to my growing list of favorite blogs and right now the big thing is the mini-uproar over the
FTC's
latest guidelines regarding bloggers who promote products, or in this case, review books.
Katie
has a great post up that explains it quite nicely, and
Wendy
has done a phenomenal job at posting her own disclaimer.
At first, I got a bit pissed off at the whole thing because I'm very against the idea of Big Government and this just seemed like a small example of that. But does it honestly affect me? Nah, not really. A large percentage of the books I've reviewed up here are from my own personal stash, books that I've plunked down a butt-ton of my own money for, so at the end of the day...yeah, I'll be alright. If, on occasion, I make mention or draw attention to a book I've reviewed for
Romance Reviews Today,
I'll play the good law-abiding citizen and note where I've gotten the book, which, in most cases, is an ARC or a freebie from RRT, courtesy of the publisher or author. I like Wendy's idea of tags posted at the bottom of the review, but should I really have to do this if all I review or talk about up here are books from my very own TBR?
Hopefully this week I'll actually have two posts up featuring the books I've finished lately, CHOSEN TO DIE by Lisa Jackson and SCREAM FOR ME by Karen Rose. I've gotten my gore on and have totally been in an RS mood, but last night had to switch tactics. Now I'm craving good ol' contemporary romance. Donna Kauffman has long been one of my favorites in contemp, and BAD BOYS IN KILTS has been a nice treat.
And just because I feel like it, please note that all books mentioned in this post are books that I have BOUGHT MYSELF!