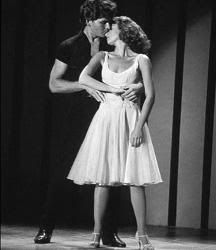 Yeah, I'm going to go there. Since Patrick Swayze was diagnosed 20 months ago with pancreatic cancer, I have always believed that if he didn't beat it I'd be a terrible mess. That day came last night when it was announced that he'd succumbed and passed in peace with his family at his side. Surprisingly I haven't sobbed buckets about the news, but it upsets me. Hell, John and my family have asked me how I'm dealing with it.
Dirty Dancing
has been and probably always will be my favorite movie of all time - seriously. It is probably the prologue of what would become my fixation for romance fiction a few years later. The phrase "sleeper hit" defined DD's success -- it literally came out of nowhere, no one expected it to be as big as it was, and it still lives in many people's hearts and memories to this day. For me, it was a fantasy (I had just discovered what boys were for but hadn't yet had my first kiss) and the perfect fairy tale. It also celebrated dance, which I still love now despite my two left feet.
I still remember the virtual enterprise that spawned from
Dirty Dancing
: a concert tour, two soundtracks, a clothing line and style, a rapidly defunct tv series, and a miserably failed sequel movie. There's even talk of a remake of the original, which I vehemently disagree with. Patrick Swayze was Johnny Castle, and Johnny Castle was Patrick - there can be no other, in my opinion. As a teen, I had memorized almost every line between Baby and Johnny, and I was well on my way to having all the dance steps down pat (albeit of the ungraceful variety) a year later. I've even spent late nights as an adult, watching and rewinding that final dance sequence over and over on VHS (poor John - he was trying to sleep too). I've since replaced my VHS copy once and have bought every release of it on DVD.
I know that Patrick had several other successful and not-so movies, and a television series (
The Beast
, which I loved) (have you seen
Ghost
? *sigh*) later in his career, but
Dirty Dancing
will forever have a special place in my heart. I saw it mentioned somewhere in BlogLand that Patrick wasn't all that great looking, and you know, I think that's exactly what made him a heartthrob. He was also a well-respected guy in Hollywood who obviously loved his wife, Lisa Niemi.
He will definitely be missed...