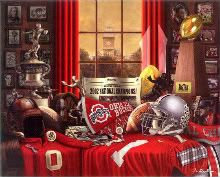 Things are good once again...
This week college football returned and all is right in my world again. Today -- it's OHIO STATE BUCKEYES football, people! Time for me to go fanatical again and live, breathe and eat ESPN and Big Ten Network sports...*sigh* I'm even giving up a bit of the US Open today, this is how serious it is.
In other news, some might notice a new redesign, so to speak, of my blog and that's courtesy of Jen over at
Sapphire Romance Realm
. Last week I threw my name in the hat to win a blog header or graphic designed by her, and dig this, I won! After some playing around with templates on Blogger last night, I finally found one that complimented her design better and
voi la
! She did good, huh?
Work basically sucked this week, so I've been vegging so far this weekend. I've also been playing with the idea of buying a house, even going so far as looking at a couple earlier in the week. (Three of them I looked at in one neighborhood, and the third bedroom in each was perfect for an office/book room!) It's a big decision, but one I've been wanting to make for a while. So, yesterday I claimed it a retail therapy day and did some massive damage in the bookstore. I came home with 10 books and refuse to feel any guilt for it. John knew better than to voice dissent... I've always said he was a smart man.
I'll be back later with my purchases and bragging rights. First I've got to go pour coffee down my throat and pain myself scarlet and grey for some Buckeyes football.
ETA: Buckeyes 31 - Navy 27 Final Score. Go, Buckeyes! (But don't fall asleep on USC like this next week!)