I was going to cram all of my thoughts today in one post and then realized that the thing would more than likely take up one entire blog page. So, I'm splitting it up into two. Read on, if you dare...(you're scared, aren't you..? heh)
A few weeks ago, I'd heard that a couple authors had received bummer news that the economy may be forcing some publishing houses to put the kebash on their book series. It took me forever to realize who this was, mainly because I simply didn't ask. Last night in my reading and blog hopping, I found out that one of those possibilities is Claudia Dain's
Courtesan series
, which just totally astounds me. Besides my belief that she has, like, this huge following, it never occurred to me that a tried and true author could be delivered bad news like this. Next month, HOW TO DAZZLE A DUKE hits shelves, and even if it didn't have a stunning cover, I'd already planned on buying it because I seriously do need it in my collection. I'm one of the large few who don't mind more Dukes, misses, and Almack's subscriptions in my historical romances (although I do follow and appreciate the Great Western Divide and those gals' desire to see more westerns on the shelves).
The other bit of news that I caught was in
Romantic Times
magazine, and in it a reader mentions her upset at Delilah Marvelle's
School of Gallantry
series being axed too.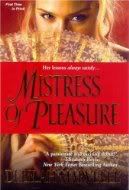 Apparently Zebra books has decided to not continue this series due to low sales, although I was under the impression that MISTRESS OF PLEASURE had done very well and LORD OF PLEASURE was gaining numbers as well. I know the first book had awesome reviews across the web. But never fear, the author has not given up and is shopping any future Gallantry books around. According to her
website
, she just scored a contract with HQN for a new series, release dates unknown, but this should at least make her fans happy.
While I was dismayed at hearing any of this, honestly I had trouble believing that books going for the killer price of $4.99 were being pulled from the lineup. Trade paperbacks, well ok, yeah, while I sometimes have no problem buying one for average price of $12 - $14, I can understand that others may not be so fortunate. Books, in general, aren't cheap these days. However, they have also been released in mass market much later than the original debut. But if you wish to see Ms. Dain's series continue, than it might be worth it to check out Amazon or whatever brick and mortar bookstore you frequent and do some shopping. Her intentions of this being a 10-book series may have to end with HOW TO DAZZLE A DUKE, book five. And let's just cross our fingers that Ms. Marvelle has the fortune of another publisher finding out what a gem her Gallantry School books have been for readers and cash in on that.
Best of luck to both of these authors!