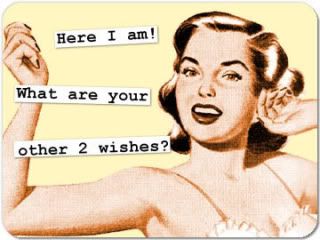 A little over two weeks ago, I was hanging out in Washington, D.C., with pals, new friends, and a whole butt-ton of fans at the RWA's Literacy Booksigning. Since then, I've gained a new respect for the amount of hard work that authors and fans, as well as bloggers, put in for something that we all obviously love. So, for lack of better description, I've been at odds since my first RWA experience and have gained a rediscovered desire to find my own niche in it all. Wendy's
post
over at
TGTBATU
rocked. Her thoughts on what bloggers mean for booksales, whether or not a whole avalanche of squeeing from the blogging community can make or break the sales figures for a book, really hit home. It's made me re-evaluate why I decided to blog. Do I want to do this because I need the attention and want the traffic, hoping that one day I'll have a following like
Dear Author
or
Smart Bitches
(props to them for their mention in People magazine, btw!)? Nah, I don't think so. Or do I just have something to say and this venue works for me? Maybe.
I'm a fan of romance fiction. That's about as plain and simple as I can get. While I may not clock in the amount of books that a lot of my favorite bloggers and friends read, I still can think of no genre that I'd love more. Many of these authors have been there for me during my highest, lowest, and best of times...all in the guise of a few hours with characters that will take me away. For that, I celebrate them. Julia Quinn got me through a long stay in the hospital when I was pretty damned sick. I was reading Nora Roberts and Catherine Mann books in the days when I met John. Shannon Butcher got me through some tough times earlier this year when Mom was sick and I was scared to death. So, not only do books entertain me, but they've sort of become my therapy.
So, again, today I celebrate romance fiction, in all its many forms. There's a little bit of something for everyone out there, and I challenge anyone who's never read a romance to give it a whirl. Who knows -- you might like it.