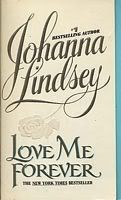 Alright, I actually did it this month and picked a book that had been languishing on my TBR for oodles of years! At the time I bought it, I was all about collecting these big name authors and basically gobbling up anything that had anything to do with the romantic fiction genre. LOVE ME FOREVER by Johanna Lindsey may not have been bought for a reason other than the eye candy on the inside flap, but I later found out that Johanna Lindsey wasn't just AN author, she was THE author of her time. Fortunately for me, LOVE ME FOREVER stands the test and actually reads very well after almost 12 1/2 years. The scary thing is, I bought this book brand new...
Heiress Lady Kimberly Richards is barely out of mourning her beloved mother before she finds that her wretched father not only wants to see her married off, but to get her out of his life entirely. Theirs was never a loving father-daughter relationship, but the bright side of this is that Kimberly will be rid of the man who has constantly reminded her of what a failure she is in her eyes. Packing her bags, Kimberly finds that she is to be sent to Sherring Cross Estate, the home of the Duke and Duchess of Wrothston, and girds herself for a visit that will entail shopping for a husband that will not only satisfy her father (he does essentially guard her purse strings), but also herself.
Lachlan MacGregor, laird of the MacGregors, is getting tired of reaving and thieving to make the fortunes that he can never quite attain. It's gotten him nothing but a dastardly reputation, but also a roguish reputation with the ladies. While he may be a hulking great giant of a man, God may have blessed him with the looks, but beauty and brawn do not pay the bills. Lachlan needs a rich wife, and he may have to go to bloody England to find one that will have him. With an aunt-by-marriage at Sherring Cross Estate that may be able to help him with his bridal hunt, Lachlan may be able to dig his clan out of the financial heap they're in.
Arranged marriages, Scottish rogues, and misunderstanding abounds in LOVE ME FOREVER. Kimberly and Lachlan do not fall instantly in love upon first meeting -- in fact, he thinks she's a shrew, and she finds him to be an insufferable giant of a Highlander. But there is more than matchmaking and machinations at play at Sherring Cross Estate, and Megan St. James, the Duchess of Wrothston, is at the heart of it all. Apparently, she and her husband, Devlin, had their own book, but I'll be damned if I haven't found out what that title is...yet.
(.....A little back story: Y'see, Megan was the object of Lachlan's fixation earlier on, and now that she's found love, and he's determined to rekindle a relationship that never existed, Megan wants to do a little Cupid-playing. Yes, Lachlan loves another woman in the beginning of LOVE ME FOREVER, alas it's true. But when he meets Kimberly, he simply doesn't know what to do with her: bosh her over the head, or tumble into bed with her.)........
Trust me, it all works out, and I actually had a lot of fun watching the gigantic lummox of a man take on a mouse of woman who became a goddess in his eyes. Kimberly literally blossoms at Sherring Cross and becomes the darling of the house party. It's up to Lachlan to see that she belongs to him, and no one else.
I may not call this one a keeper, but I can see why fans adore Johanna Lindsey. I think I've only read one of her books ages ago (maybe a Viking one?), but I definitely need to do a bit of harvesting and see what I've got waiting for me in my TBR by this beloved author. It's like shopping for new books and authors all over again...