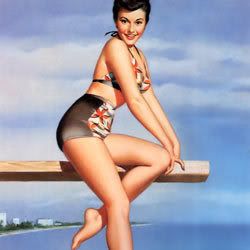 John and I started what will hopefully become a new habit -- getting into the gym. The hospital I work for has a gigantic, absolutely beautiful, state-of-the art
fitness center
, complete with two pools. I got back in the water today and swam laps for the first time in way too many years. OMG, I miss my pool days when I worked as a lifeguard, swimteam coach, and competed as well. Back then, I was "the shit"... Now I'm just a fart, and I could only do a handful of laps, but damn, it felt good!
John's taken to doing more walking on a treadmill to get his knee back into shape. After all these years, he actually asked ME if he could jump in on my membership. It seems that Amy was right when she recommended he start taking glucosamine to help with his knee pain, especially during the winter, and now he's walking circles around me! It's nice to see him wanting to get out there more and do something for himself.
Tomorrow, I think I'll head back to the pool and try it again after I swing by a sports shop to pick up some goggles - God, I forgot what damage chlorine can do!