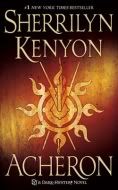 In all the hooplah with the holiday this past week, I forgot to mention that I finally got my greedy hands on a copy of Sherrilyn Kenyon's latest hardback, ACHERON. Wow, this sucker is a mammoth! I keep buying the Dark Hunter series books as they're released, but I'm SO behind on reading them. I keep promising myself that I'll dig up my copies of the series from the TBR, and trust me -- I REALLY want to -- but have you seen a picture of my mountain of books? If not, take a gander over on the ol' sidebar. ~~~~~~~~~~~~~~~~~~~~~~~~~~~~~~~~~~~~>
Yes, that's a real pic of the monstrosity, as embarassing as it seems.
Oh, speaking of which, let's not forget the
other
book I just ordered...
Yeah, I was bad -- really bad. I haven't bought books in over 4 weeks now (!!), and I just couldn't help myself. The pretty Kenyon book, and the deliciously Christmas-y historical romance, they just called to me. Do you get suckered into a series and buy, buy, buy no matter where you are in the series? How about holiday-themed books? Is anyone as bad as me? Right now I'm tallying up the holiday books I want to order from eHarlequin, and trust me, despite the fact that I've been good and haven't ordered from there in a month, this bill is not going to be pretty...