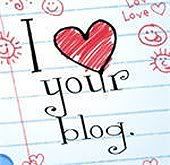 Wow --
Jace
totally made my day with my very first ever blog award, and yes, I think this is the first time I've been tagged! I wasn't feeling that great when I woke up today, but this definitely made me smile -- thank you so much, girl! Of course I'm a fan of your blog -- you and I share similar tastes in books. And, you know, Roger may have won the US Open this year (for what, the 1000th time?), but there's always next year. I'm still holding out for Andy Roddick and/or Djokovic! And I'll get more pics of Baron up asap -- he's my pride and joy, right up there with my own romance hero, John... ;-)
So, here's the rules which I had to borrow from Jace:
1) Add the logo of the award to your blog
2) Add a link to the person who awarded it to you
3) Nominate at least 7 other blogs
4) Add links to those blogs on your blog
5) Leave a message for your nominees on their blogs!
Wow, I'm going to have to put my big girl underpants on because at some of my favorite blogs they really don't know me, I'm that new to Blog-Landia. But here's where I start or end my days after I'm done checking email:
The girls over at
Rip My Bodice
really know how to make reviewing look original and fun, and still manage to do it in heels, with feather boas, and a frothy beverage. Not only do I get to add or delete books from my to-be-bought list, but I giggle like a mental patient when I'm over at the site.
I've known
~debbie~
via one of my favorite Yahoo lists for several years, and I consider a great buddy. No matter what this gal has gone through, she's always picking herself up, putting a game face on and faces everything with brutal honesty, charm and bravura. She's also getting her reading mojo back and is once again reading faster than me!
Kristie
will probably roll her eyes at yet another award, but she seems to be the troup leader for many of the blogs that I visit. She just so happens to be the blogging partner of my one of my co-reviewers at Romance Reviews Today, Katiebabs! But I'll save that one for on down the line. Kristie, even in the short time I've been a fan, seems to have a heart of gold and is one of the best reviewers I've ever read. Thank you for taking note of my fledgling blog and making me the 3rd Amy in your list!
Wendy
, popularly known as the Super Librarian, is a favorite of many, but also my mentor in the whole blogging thing. She's also a Scandalous Lady in her own right with me and ~debbie~! This chica makes blogging not only fun, but to me, she also defines it as an artform since she still does it in HTML! I really need to borrow some of her catchy phrases, but I'd never be able to quite pull it off in a cape like she does. Because of her and ~debbie~, I got interested in the Rock Creek Six series (and I'm SO not a diehard western fan) and actually own the entire set.
Katiebabs
, who I just found out a couple of weeks ago has her own blog, is actually one of my co-reviewers at Romance Reviews Today. I'm not sure where she gets the time and energy to do all that she does, but this gal has an unflagging admiration for and devotion to the romance fiction industry.
Jill
of Romance Rookie has an awesome blog and sticks to her guns with the reviews and her honesty in how she feels about a book. I admire that. She's also a newbie to Nalini Singh's Psy series, just like me, although I think Jill has now surpassed me in reading more books in the series.
Another librarian on my list of faves,
Jessica of My Capital Life
, finally returned to her blog and I'm glad to see it. I think Wendy first mentioned her, and since then I've been returning regularly to see what's up in D.C. Nice place, and blog, to visit.
While I may have filled out the required 7 spots for these awards, I have so many faves, including the
Book Smugglers
,
The Good, the Bad, & the Unread
, and
Sarah
, that it was tough work just to come up with some. I still love all my bloggers, although I don't post as much as I want to.