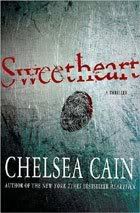 Well, we made it through Hanna last night with little to no damage or problems, thank God. Of course, now that we'd gotten a handle on her, we had to worry more about Ike, but it looks like things are looking better for us, but I pray for, Cuba, the Keys and the Gulf Coast.
John and I actually went out last night in the downpour and had a nice lil' dinner at a bar/Irish pub where a Celtic band that he enjoys was playing. Had a great time with a couple of friends and was I surprised to see how many people were out enjoying the night in all the rain! But anyway...
I went to BAM this a.m. with full intentions of doing some damage to my checkbook because I've been soooo good, and I actually only came away with two -- count them, 2! -- books. At the left is the cover of my prize possession this month, SWEETHEART by
Chelsea Cain
. I had a gander at a review over at
Ramblings on Romance, Etc.
where even I cringed at some of the content that Katiebabs mentioned in her review. But I'm still tres excited that I've got this one in my hot little hands! I love 'new book' smell!