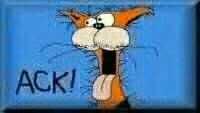 There's nothing like working a full weekend, finally getting done with that, and realizing that in the space of two days I have to do EVERYTHING before our trip to NJ and D.C. this weekend. I've got two reviews (yes, cuz I suck) to pound out today and tomorrow, tackle a laundry pile that's second in heighth to Mt. Everest, attempt to get some packing done, and be daisy fresh these next two days despite the fact that I put off everything until the last minute.
At the very last minute? Yeah, I'm there....
I tried to keep up with the gals in San Francisco this past week who had the fortune of going to RWA Nationals. So many blogs, so little time, and this girl needs her sleep being the nighshifter she is. All in all, it looked like a good time was had by all, and the girls over at
Blog Nationals
did a great job of posting updates for the folks back home. Now if I could just actually READ some more of the books that won the RITAs so I can find out the awesomeness behind the statuettes. I think
Wendy
mentioned that she only read two books the month of July, and I think I'm slightly over that at 4 or so. My whole previous post about reading multiple books at the same time was the truth, but it does usually take me a while longer to finish said books.
This time next week, John and I will be touring D.C. and trying to fit everything into, like, a span of 4 days. But until then, I'm totally stressed at home.