I said I wouldn't do it. But it kept calling my name, and I'm sorry, I just can't ignore the lure of a bookstore. Especially my super, dyno-whopping Books-A-Million where I've spent my hard-earned cash and put several employees' children through college over the years. Yes, I've spent that much money there. They even gave me a Gold card where I don't have to pay anything per year for the membership. I don't know if I'm just that great a shopper, or if I need an intervention.
But there I was, in BAM, and low and behold, they had August releases! Now, I believe in giving an author her or his due, but I just cannot pass up buying early. So, what did I take home with me?
WATCH ME, Brenda Novak
SOME LIKE IT WICKED, Teresa Medeiros
BEFORE THE SCANDAL, Suzanne Enoch
SURRENDER TO ME, Sophie Jordan
DELICIOUS, Sherry Thomas
PLAY DIRTY, Sandra Brown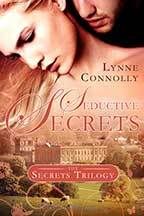 I finally finished up my two overdue reviews for
RRT
and have to do some catching up on the ebooks I signed up for. One of those is by Lynne Connolly and apparently the beginning of a new trilogy for her. I enjoy her books for the correctness and sense of place she infuses, but I'm by no means totally caught up on all she has to offer. And check out the cover -- isn't it gorgeous? You know me, can't turn down a pretty cover.
Now, if I can ignore the fact that tennis is on this weekend, maybe I can get some more reading done. I'm also reading a review book on the romps and affairs of the British royals and it's turning out to be a great read, but I'm having to take notes to keep it all straight in my head. It's a wonder this chica gets any books finished at all with all the novels I read at the same time. I can do that in spurts, as long as they're each for a different reason -- fun, ebook, review book, and sometimes I'll throw in a nonfiction one as well. Big shocker that my TBR is taking over the apartment, eh?