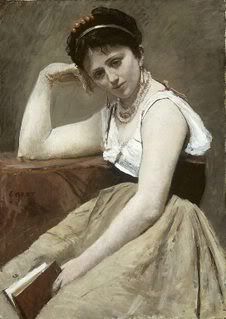 So, looking back over my posts of the past few months, they've been spotty in regularity -- at best. I have reasons for that, obviously the biggest one being the biggest soul-sucking, devastating change in my life last summer. The other being that while I've gotten back up on my reading high horse in a way that I haven't in many years, I've been remiss in tearing myself away from my books (and life and my job, unfortunately, that nasty beast) to get my arse to the computer and actually write about what I've been reading. It looks like people still check in on me, which I thank them for, but I haven't been using this blog like I initially intended to -- accountability for my reading which will hopefully prompt me to astonish and amaze people with the volume of books I've been tearing through. Ha! I am happy to report though, that by the end of March 2012 I totaled 22 reads for the year. Probably the most I've completed in at least 5 years in such a short time. Hell, in March alone, I read 10 books, which is an amazing record for me.
That being said -- I mentioned in last month's challenge post that my problem has not been in completing the "assignments" for Wendy's TBR Challenge '12, it's been in posting reviews. Yeah, I suck. But at least credit me for getting the posts up at some point, albeit not on the right day. Rules rules rules, yeah I feel the need to bend them to my whim sometimes.
April's challenge read, for me, was Pamela Callow's Indefensible, a January '11 Mira release, and apparently the second book in the author's ongoing Kate Lange Thriller series. Lately it seems that reading books in a series in order hasn't been a problem, unless it's the JD Robb series which I swear with my hand on the Bible is best read that way. Don't ask me where I stopped in that series, though, because it's embarrassing -- and I call myself a nearly devout fan of La Nora.
Indefensible
begins with Kate Lange contemplating the long holiday weekend that's about to begin in which she'll get little to no relaxation time with all the work she's bringing home from her job as a laboring teeny tiny lawyer in a big firm of sharks. She's still recovering, physically and emotionally, from a harrowing run-in with a serial killer on her last case (
Damaged
, Mira June '10). Her weekend is wrecked even further by two unforeseeable events -- the tragic death of a vacationer in her neighborhood, and when Kate's boss, Randall Barrett, seeks her help in his own defense. Seems that that poor woman who died by falling off the balcony of her rental home was his ex-wife, and no one makes a better suspect than the spouse himself, even if he is an ex.
That, in a nutshell, is
Indefensible
, and rather succinctly put, if I do say so myself. It seems Kate and Randall have a bit of history, and it's drawn rather well with their hemming and hawing around each other before the weekend is about to start. Kate had rather thought that their relationship might be a tenuous beginning to something more than boss and employee, but that is shut right down with Barrett's abrupt attitude and dismissive tone as he's about to leave for his extended vacation. Of course, the vacation is cut short with his ex's death, Elise Vanderzill, and now Randall has to reverse roles and forces him in the role of murder suspect and client to Kate after he requests she take his case. Kate is nowhere near the realm of criminal defense in her line of work, instead preferring tax law, but she can't see denying Randall's plea for help.
Maybe I missed out by not reading the first book,
Damaged
, but I never did quite connect with Randall and Kate.
Indefensible
is a decent read all in all, but one that allowed me to pass the time instead of tearing through all the way to the end because I just
had
to find out how it all works out. Or maybe I'm spoiled by the James Patterson bender I seem to be on and want to compare everything to that mastermind....*shrug*. That said, the book was enough for me to go out and find
Damaged
and start over in time for
Tattooed
, the 3rd book in the series which comes out in June.
The big conflict in
Indefensible
is not the relationship between Randall and Kate, or even between her and the investigating detective, her ex-fiancé, Ethan Drake. Instead it's the convoluted one between Randall and his own teenaged son, Nick. Nick is hellbent on pushing his father away and punishing him. Their relationship is rocky, to say the least, after Nick had stolen money from his dad and this vacation was to be spent crewing a yacht, where Nick could earn it -- and his dad's trust -- back to repay him. But Nick doesn't want any part of it, and the death knell to Randall's freedom may be Nick's belief that he'd seen his father throw his mother over the railing that night. Is the teenager keen on making his dad pay in the worst way, or is there something more at work here? For me, that was the more suspenseful angle in Indefensible and what kept me coming back.