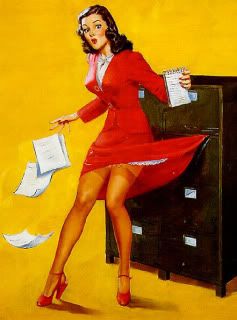 It occurred to me that, while I've been doing a ton of reading, I've not been talking much about it. In fact, in the past two months I think I've read more than I have in many years. Trust me, it's so much easier to read about fictional characters and their troubles, romances, happiness, or sordid details in life than it is for me to focus on the changes in my life the past seven months. My counselor says it's more a way of ignoring what I'm going through than anything, but I disagree. It's been a sort of therapy for me, and it's free since I have a veritable bookstore to choose from in my own house.
While I haven't been truly keeping track of my reads, I have a loose list of the books I've finished. In February, it seems that I picked up many books by tried and true favorites of mine from past years: Linda Howard and Lisa Gardiner are two that come to mind.
v
The Eleventh Victim by Nancy Grace
, 2009, Hyperion. If I'm thinking right, this was the first fictional legal thriller by the popular CNN news personality, and it's the first in a series, which features lawyer-turned-psychologist Hailey Dean. In it, Hailey, a burned-out criminal prosecutor flees her high profile career in Atlanta for Manhattan where she opens her own counseling practice to help victims in another way, other than criminals in court. Unfortunately, her last case as a prosecutor landed her an enemy who is not just intent on repaying her for the justice she won in court, but he won't stop until she's dead. Half-decent thriller, a bit dry here and there, but worth the read if you're a fan of
Nancy Grace
. I'm glad I have the second book,
Death On the D-List
, because I think this is a promising series if you're into the whole Law & Order thing. Fortunately, I am, even if I desperately miss Chris Meloni on L&O: SVU.
v
Mesmerizing Stranger by Jennifer Greene
, 2010, Silhouette Romantic Suspense. No need to wax prosaic since you can read my thoughts on this book right
here
.
v
The Diamond Slipper by Jane Feather
, 1997, Bantam. I used to adore anything by Jane Feather, and now I remember why. To borrow one of Wendy's descriptions of one of her fave authors, Feather writes saga-like romances that are many readers' favorite lists. First in the Charm Bracelet trilogy, The Diamond Slipper features Cordelia Brandenburg, a childhood friend of Marie Antoinette, as she adjusts to her arranged marriage with a lesser prince in order to accompany her dear friend to France for her own wedding to the French dauphin. Unfortunately, the fiesty Cordelia falls for her proxy husband, Viscount Leo Kierston, before even meeting her own husband. A meaty book with all the bells and whistles that first got me jonesing for romance fiction way back in the day, I read it fairly quickly despite the tiny print and 389 pages.
v
Ready by Lucy Monroe
, 2005, Kensington. Another first-in-a-series by the popular Monroe, this was a first for me as well since I'd never read any of the author's books. Author Lise Barton is being stalked and doesn't know who to trust. Fortunately, Joshua Watt is available for self-appointed protection and detection detail. It's too bad that he wants to get Lise in the sack and work his attraction for her out in a mutually satisfying manner. Lise's too gun-shy to indulge, and scared for her life, but reluctantly agrees to Joshua's methods of nailing the guy who is making her life hell. Pretty straight forward, nice and steamy, a solid intro to a series that—get this—I have the rest of on my TBR.
v
Killing Time by Linda Howard
, 2005, Ballantine. This book,
this book
, made me go, WTF? Very X-Files-ish, but all-in-all, I read it in a day, despite my reaction to throwing time travel into the mix. I mean, Linda Howard writes some of the best suspense in my opinion (even though I haven't
lurved
all of her books), but...time travel??? What the what?? Review coming soon because, seriously, I have to get this out of my system. Not that the book sucked (it was actually pretty good), but why'd she go and do that??
v
Kiss Me While I Sleep by Linda Howard
, 2004, Ballantine. This is the type of book I'm used to from my girl, Linda. And I loved it. Enough said, again—I'll have to review it soon.
v
Gone by Lisa Gardner
, 2006, Bantam. It must've been my month for suspense, and I'm so glad it was. Because once I finished this one up, I had Gardner's newest,
Catch Me
, waiting on me at the library. Pierce Quincy has to put his knack for criminal profiling when his wife, Rainie Conner, goes missing. It doesn't help that Rainie and he had just recently separated, which initially puts him in the hot seat as a possible person of interest in her disappearance. It's soon evident that Rainie didn't go willingly and Quincy must try to best someone with their own agenda. I used to books in a series in order, but lately it's become too much for me to go and try to find them in my TBR, so I am satisfied with reading out of order.
Gone
is another stellar Gardner book with Kimberly Quincy and her lover, Mac, coming in for the assist on this case, and it reads splendidly on its own.
v
Which leads me to,
Catch Me
by the same, 2012, Dutton. This is another series by Gardner that I love,
D.D. Warren
. D.D.'s now a new mom, and recently back on the job after her maternity leave. She loves what she does, but anticipates going home every night to see the new love in her life, baby Jack. The case she catches her first day back will probably call for lots of nights with little to no sleep, though. Charlene Rosalind Carter Grant snags D.D.'s attention at a crime scene and calmly states that she will more than likely die on January 21
st
, about a week away. How is D.D. supposed to investigate a case that has no body yet? After a little bit of research, she sees that Charlie's dilemma could be substantiated by the fact that her two best friends had died on that same exact date in the past two years. Could Charlie be the lucky third one?
Excellent
book that I read in one day, people, it's that good. I also loved that Ms. Gardner brought back several characters from many of her books, including J.T. Dillon from
The Perfect Husband
, which was the first book I ever read by this author.
v
A Lady Awakened by Cecilia Grant
, 2012, Bantam. This was a debut, and I've been promising myself that I'd start tackling (among many others) some of the newer books. To date, I've actually read three March 2012 books (as well as one or two others)! Go, me! Anyway,
A Lady Awakened
began of a bit..hmm, I don't know, darker in tone? But it's more than that, what with widow, Martha Russell, realizing that, upon her husband's death, she may very well lose her home to her brother-in-law if she's not pregnant with an heir. Martha's not only desperate to keep the house but to also continue with her plans to begin a school for the property's laborers' children. She comes up with a harebrained idea to take on her neighbor, Theophilus Mirkwood, as a lover in the hopes that he can give her a baby boy. Theo would be crazy to say no to an arrangement and he plans on enjoying Martha as long as she's willing. However, this is not an affair to Martha, but a serious endeavor and one she will not allow herself to take any pleasure from. I wasn't prepared to love this book, but I wound up doing so. Some say that you can't change a person in a relationship, but both Martha and Theo bettered themselves each and touched a place in my heart.
v
To Seduce A Sinner by Elizabeth Hoyt
, 2008, Grand Central Publishing. Second book in
The Legend of the Four Soldiers
series,
To Seduce A Sinner
was even better than its predecessor,
To Taste Temptation
. Melisande Fleming essentially proposed to Jasper Renshaw, Viscount Vale, when he's jilted on his wedding day. And so they're wed. While Melisande had nearly worshiped her husband for many years already, it's a deeper love she feels as she gets to know him. But he's hiding something, while at the same time she guards her heart from him to avoid being emotionally hurt. Another winner from an author who, in the two books I've read by her, has rocketed to my fave authors list.
v
Down the Darkest Road by Tami Hoag
, 2011, Dutton. I LOVE this series that is set in California during the 80's and features Sheriff's detective Tony Mendez, FBI profiler Vince Leone and his wife, Anne. It's a loosely tied series, with the first two books,
Secrets to the Grave
and
Deeper Than the Dead
, being more closely related than the third. In
DTDR
, Lauren Lawton is still trying to cope with her 16-year-old daughter's disappearance in Santa Barbara, and she's not doing a very good job of it. The cops had gone cold, with one suspect they could never prove, but Lauren still does what she can, desperately, to keep them searching for her daughter, even badgering the detectives and press. Now she's moved to Oak Knoll with her younger daughter for a fresh start. But that ends when she encounters the man the Santa Barbara police had fingered as the main suspect in the Lawton girl's disappearance. Step in Tony Mendez. As a detective in Oak Knoll, he's seen some pretty gruesome cases, and while Lauren comes across as desperate, he can't help his concern when she says that the man who took her daughter is in his town. Fabulous fabulous series! Enough said.
v
Wedded In Scandal by Jade Lee
, 2012, Berkley Sensation. This is my reintroduction as a reviewer for Romance Reviews Today, so a review will be forthcoming there this month. I will say this—definitely a great start to a new series!