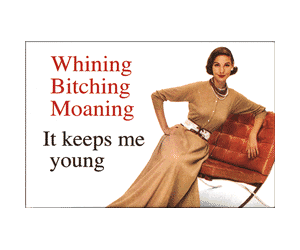 Sometimes I wish I had my mom's gift of gab. She can hammer away at a subject until it's been poked, prodded, scourged, hashed and rehashed, and it cries uncle. Ergo our two hour phone call last night in which my longest sentence was..."is that right? Huh...". John will tell you I can talk a corpse back to life. So, why don't I have anything to talk about here??
My reading has been at a near standstill for about 3 weeks, which the review boss will hate. ALTHOUGH -- I am about to finish up a Sara Lindsey book, PROMISE ME TONIGHT. I'll have to hash out a review for it later this weekend, but my biggest problem with it was the heroine. She's a bit too manipulative in the beginning for me, but does mature at a rapid pace when she's forced to. It's a well-written book, but I find myself wanting to read her parents' story who, by all appearances, are still madly in love after a lengthy marriage and a handful of kids. However, I'm thinking this is a debut book for the author.
Only two nights ago, I finished up SMASH CUT by Sandra Brown, who usually never fails me for a good suspenseful read. One thing I'm at odds with is when a senseless act perpetrated by the villain is just haphazardly thrown in for "wow" factor. In this case, it was the killing of a dog. I may not be a card-carrying member of the SPCA, but I'm a dog owner/fan and this just really bothered me. I know that there are viler acts, unspeakable even, that have been mentioned or described in some of the books I've read, but I always see red when it involves animals. To me, it just jarred me right from the story and I couldn't get through it quickly enough just to see that the baddie gets his just desserts. For me, he didn't suffer enough...
John and I are in the beginning stages of addressing and setting up the invitations. Since they're going to be hand-lettered (John's got mega-talent at classy handwriting) and more involved than typical invites, we're starting early and should be getting them in the mail within a month. We're at less than 7 months and counting until The Big Day! Yesterday we nailed down a location for the ceremony and now it's only a bunch of crossing of fingers that it doesn't rain since it will be a late afternoon outdoor shindig.
So, what else have I missed across the Blog World? It seems quiet these days.