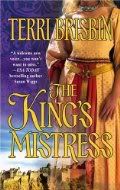 I've really been fortunate with my choices for this year's TBR challenge. While this wasn't as old as the previous months, it was an author whose books I have plenty of yet haven't read any.
There were worse things than to be shackled in marriage to a handsome, powerful lord who desired her -- but Marguerite of Alencon was bred to be consort to a king and could not abide her fate. She had great power as Henry Plantagenet's mistress, and to be set aside and promised as a bride to noble Orrick of Silloth was an insult she could not bear...!

Orrick knew his reluctant bride was a creature of the court with many secrets. And yet, Marguerite of Alencon would make him a perfect partner -- accomplished and gracious, a true Lady of the Keep -- if only she could release her turbulent past and embrace a passionate future...in his arms!
First off, it's hard to imagine a king's mistress -- or any man's mistress -- as the heroine in a romance novel. In this instance, it worked though. When we find out that she's been raised by her family for this role and it's the only thing she knows she's good at, then it's quite easy to see why Marguerite is having a hard time being another man's wife. She's also an educated woman in a time when it just wasn't cool for things like that. But since her heart is tied to Henry, she had to do what must needs to keep his interest - including having his baby. Until the day he tells her that she'll marry, Marguerite was always firm in her belief that the king's heart was her own.
When she arrives at Orrick's dark castle, Marguerite is adamant in her belief that Henry is simply punishing her for angering him and that one day soon she'll be allowed to return to him and regain her place at his side and in his bed. But it's not to be. Orrick knows that on the outside it looks as if the king has granted him a boon, but what he's really done is cast off his leftovers and gotten rid of an unwanted mistress. As a man who is loyal in his service to his monarch, as well as his father before him, what else can he do but make due and spin this in a positive direction. Is it possible that he can convince Marguerite to remain with him as his wife... happily?
For a book that I didn't think would "work", THE KING'S MISTRESS does. I've been on a historical non-fiction tear lately, reading as much as I could on British history, so this fit my mood perfectly. It also reminded me that I need to pay a bit more attention to Terri Brisbin and make up for a lot of books of hers that I haven't read yet.