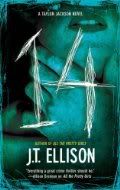 Ten victims, each with pale skin and long dark hair. All have been slashed across the throat, the same red lipstick smeared across their lips.

In the mid-1980s the Snow White Killer terrorized the streets of Nashville, Tennessee. Then suddenly the murders stopped. A letter from the killer to the police stated that his work was done.

Now four more bodies are found, marked with his fatal signature. The residents of Nashville fear a madman has returned, decades later, to finish his sick fairy tale. Homicide Lieutenant Taylor Jackson believes the killings are the work of a copycat killer who's even more terrifying. For this monster is meticulously honing his craft as he mimics famous serial murders...proving that the past is not to be forgotten.
I read All the Pretty Girls, the first in J.T. Ellison's Taylor Jackson series, early last year and I remember enjoying it enough that I subsequently picked up the next two in the series rather quickly. (Judas Kiss is the the third book and on my TBR) Going into 14, I honestly didn't remember much from ATPG, so a reread may be warranted. That said, J.T. Ellison now has a devoted fan because this book has everything in it that I love in a suspense/romantic suspense novel. The "14" in this case, stands for the total number of bodies attributed to the work of the Snow White Killer (10), and the four bodies they claim have been murdered by the copycat.
In 14, Taylor and her fiance, FBI profiler John Baldwin, are trying to wrap up what they can in Taylor's caseload before their upcoming wedding and honeymoon to Italy. As it stands, her current case is spiraling and it's obvious that a serial killer is on the rampage, copying the murders of the Snow White Killer. They'd never caught "Snow White", but it's always been Taylor's desire to solve it even though she was only a kid during those days. As yet another female goes missing who easily matches the description of the copycat's past victims, Taylor starts to seriously consider postponing the wedding until this case is shut. Baldwin has a different opinion, but he's called in to help when the Nashville police put in a formal request for the FBI's assistance.
As the days go on and the layers and murkiness of this case get deeper and darker, Taylor and Baldwin realize that there may be more than meets the eye when it comes to Snow White's apprentice, as they've dubbed him. This is where J.T. Ellison expertly wove in Taylor's history as the daughter of Nashville's once-reigning socialite parents. Her ties to the city's elite may come in handy and help in putting a stop to the apprentice. Baldwin has a past as well, and that involves profiler Charlotte Douglas, who gets herself assigned to the Nashville office as well. Her reasons for being there, on the surface, are to lend her expertise and supreme knowledge; but there's more to it than that, and Baldwin knows it. She's a real piece of work, and it thrilled me to my toes. I'm a fan of the evil ex-girlfriend, wife, mistress, mother-in-law, etc storylines in whatever book I'm reading. Charlotte is a first class bitch and she's got her sights set on Baldwin, whom she'll get.
So, with all of this going on, it doesn't seem like there's much hope for a resolution and a happy ending for Taylor and Baldwin, right? Not so, not so... I love their relationship and the easy fluidity they deal with each other with. They both complement one another, and are a support system for when the going gets tough. Baldwin may be at odds with how Taylor deals with emotions and, at times, their relationship, but he is confident with his place in her heart. Taylor is quickly learning that she can finally allow herself to lean on a man and not be ashamed of it.
It's a good thing I already have Judas Kiss in my hot lil' hands because I hate waiting for anything. The other good news is the fact that two more books in the
Taylor Jackson series
are slated for release this year: The Cold Room (3/2010) and The Immortals at the end of the year. Also, a sixth book is listed on her website for a February 2011 release date as well. I've already got the notes down in my calendar.