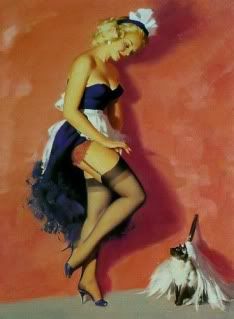 Cleaning house is for the birds! I've spent the morning and early afternoon of my sweetie's birthday scrubbing floors, one bathtub, toilets, and tossing out ARCs that I've had for years (I'm waiting for the ARC police to come and get me for that). Now I'm rewarding myself with a frosty beverage and trying to drum up the energy to start the ham dinner I've planned for aforementioned sweetie. Do I love this time of the year? Absolutely. Am I mental for it? More than likely...
I've mentioned before that we'll be having guest(s) for the holidays. While my mom probably won't be arriving in time for Christmas Day, I'm looking forward to spending some time with her on my own turf. Since I'm on vacation through the 31st, I'll get to ring in the New Year with her for the first time in well over a decade. Now that oughta be cool. I'm already trying to come up with a grocery list (because, seriously, other than books, I spend most of my fun funds on grocery store trips) that will appease her rather eclectic diet (she has Crohn's but is also allergic to shellfish AND most types of dairy). I see a lot of protein-based meals during her time down here -- red meats, chicken, fish (besides shell), and pork. I'm hoping she'll also share her kitchen magic and teach me to successfully roll out dough. Most people know that I adore cooking, but baking is not my forte. I can usually do cakes or cookies, but if it requires a rolling pin -- screw it. I usually wind up getting John to do it because I get seriously pissed off.
Oh well -- I hope that everyone is either bundled up, warm and enjoying the winter storm that swamped a good portion of the midwest and eastern states, or keeping their sanity intact while out in the throngs of crazy people who have all put their holiday shopping off until the very weekend before Christmas. Nuts! (Oh, who am I kidding? I was one of those crazy folk this morning.) I'm going to go pop the ham in the oven and kick back with a book -- my third holiday-themed romance this year. I may even have time and the energy to throw a review up for it this weekend.
Enjoy your Saturday!