Now that the leaves are changing color and the nights are getting cooler, it's the perfect time for the hairy, scary books that I love. During the month of October, many people reach for books featuring ghosts, vampires, ghouls, and werewolves -- me, I still stick with the tried and true thriller theme, serial killers. (*fist bump* at Wendy) My reasoning is this: what's scarier than a human being who is capable of doing some seriously heinous shit, right?
Criminal Minds
has a diehard fan in me (major hots for Matthew Gray Gubler, btw). But I digress...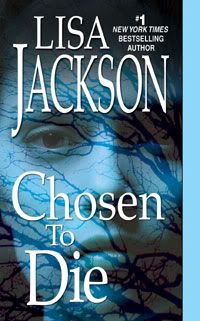 Last week I finished up CHOSEN TO DIE by Lisa Jackson, the sequel to LEFT TO DIE from July of '08. If you don't mind spoilers, then you won't mind me saying that at the end of LTD, there was a huge set-up for a sequel when one of the main characters, Detective Regan Pescoli, was kidnapped by the as-yet unknown serial killer who's shooting women's tires out, causing them to wreck. Afterwards he nurses them back to health only to take them out and leave them stranded, naked, in the wilderness. All in the dead of winter, during some of the worst snowstorms Montana has ever seen. Real swell guy, eh?
Yeah, I thought so too.
CHOSEN TO DIE features Regan as the potential victim of the seriously whacked MFer who "chooses" the women he'll honor...by making them trust him, and then coldly forcing them to march to their own death. The entire book is not only a suspense that tingles the spine and forced me to keep ALL the lights on in the house, but it's also a study of just how the people in Regan's life react to her disappearance, how they are at odds with not having her in their lives right now, and the possible reality of Regan never coming back. Nate Santana, Regan's lover who was only hinted at in LEFT TO DIE, is forced to come to terms with how he really feels about the her.
While it's only my opinion that LEFT TO DIE had me flipping pages faster, CHOSEN TO DIE made me pause and really take stock of just how much this woman had affected so many people in her life. Honestly, it's a neat character study. In the first book, Regan was almost unlikeable -- almost. While her kids (two teenagers) always came
first, the job wasn't too far behind because she figured it was one of the few things she was good at. She doesn't portray herself as a do-good angel without sin. Regan likes to take a lil' nip from the booze bottle once in a while, and if she shows up to work a bit hungover, well, hell, it must have been a great night. However, that never once stops her from doing her job, and at the end of LEFT TO DIE, the people in her small town think that the police have nabbed the Star Crossed Killer, the aforementioned serial killer. Within the first several pages of CHOSEN TO DIE, we're affirmed that he's still out there, and Regan may be his next victim.
Wow, I totally retrospected all over myself here, eh?
CHOSEN TO DIE is vintage Lisa Jackson, and almost exactly what I've come to expect from any suspense book written by her. I think she revved it up a bit more in this one in regards to characterization, though. Was I stupefied and shocked at the end when the killer is revealed? No, not really. But there is a lot of insight as to why he goes to the lengths he does to torment these women. That's really an uncomfortable feeling, if you ask me. When you are able to read and understand some of the motive behind the crimes...oy, *shudder*.
I have it on good authority (from the author's website) that the next book in this series won't be out until 2011. What I've failed to mention in all of this is another character, Detective Selena Alvarez, Regan's partner, who has a seriously bad feeling when Regan doesn't show up to work after a day. My gut's telling me that BORN TO DIE (the title mentioned on the website) will feature Alvarez.